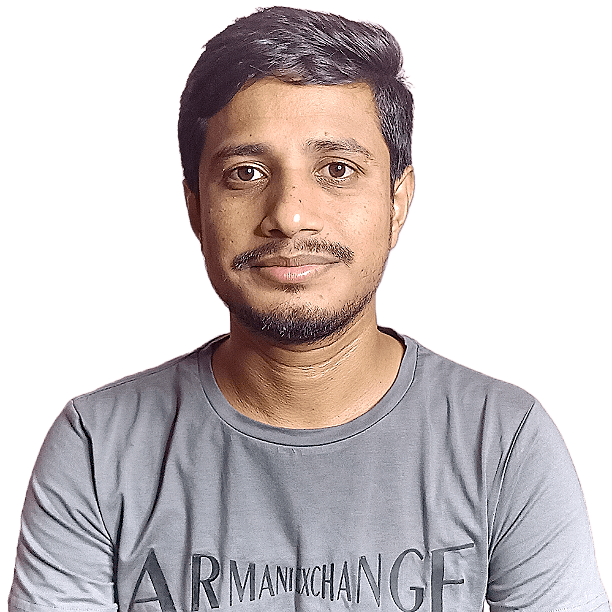 Hey, I'm Vishnu Vardhan Reddy
SEO Professional and Blogger.
Everyone has a different story in life with ups & downs, and here comes my life from the past few years with ups & downs.
Well ! and also know what made me enter into digital marketing and become SEO person and blogger?
Basically, I'm a B-tech graduate in Computer Science of Engineering based in Hyderabad-Telangana, India.
I completed my B-tech in 2019. Actually, It should be done in 2018, But it took me one more extra year to clear my Backlog subjects. 
Due to my father being a COPD patient and having financial problems, I started my career in 2018 as a Sales Executive at Metro Wholesale Store, where I worked for 6 months.
Then after I worked at HDFC Bank as a Bike Loan Executive for 8 months.
While life is moving quiet normally, suddenly one day I became sick, that was the worst thing that happened in my life to me. And I need to undergo fistulogram surgery due to the infection. 
Note: Maintain a proper diet and Eat Healthy Food, We don't know what may affect our bodies later.
What I can do about that, so I have been admitted to the hospital and underwent surgery in 2019.
It took two months to recover. And, around Jan or Feb of 2020 I fully recovered from the surgery.
Later I Joined as a Process Associate at Nvidia Graphics Pvt Limited, Hyderabad, Telangana on Mar 2020.
I worked for 9 months as a process associate, then due to covid pandemic, suddenly my father became very serious and was admitted to the hospital. Meanwhile, I left the job in November 2020 to stand beside my father and take care of him.
By God's grace, he became normal and was brought him home from Hospital. And I was taking care of my father and family but I was left with no Job.
So while sitting at home due to corona pandemic 2020, I got a call from my friend about an interview for a digital marketing executive, who is working at Accenture as a Google ads Executive. 
I don't have any idea about digital marketing at that time, but I attended the interview and got rejected.
So that rejection on that day made me focus on the digital marketing field, as I am also a person who always browses the internet to read new things and the word "Blogging" is always in my mind since I heard it on the Internet, which made to choose this career path on digital side.
And, I searched about digital marketing on the internet and started learning on my own from Youtube and Google by taking notes.
While in the process I saw an ad on Facebook about a Digital marketing workshop by "Digital Deepak".
I attended his free workshop about digital marketing in Apr 2021. The workshop went very nicely and in the end, he offered a digital marketing practical internship with a certificate and also 100% cashback for every assignment submission.
But, the entry to that internship costs around 14000 INR. But at the time I don't have that much money to pay for that Internship program and I left the workshop unhappy.
And after few days, Again I saw an ad about the Digital Deepak workshop while I am browsing on the internet, and I attended the workshop.
I know he will pitch again the digital marketing practical internship program. But Again I don't have money to pay for it.
So I texted my friend about asking for money to enroll in the digital marketing Internship program on July 18, 2021.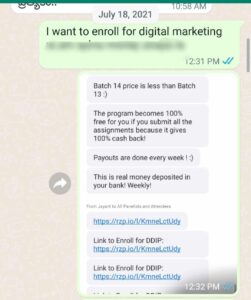 Then he sent me his credit card details, which helped me to pay the amount for the Internship and I successfully enrolled in the program.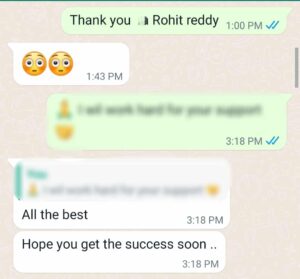 Then after, the internship program went very well, it helped me to enhance my skills and learn new things in a structured way about digital marketing. 
And also by submitting practical assignments every week I received my cashback and certificate too.
While I was more focused on SEO and Blogging, in the process I started my eCommerce blog (ecomvishnu.com) where I wrote some SEO-Optimised articles about online businesses to educate people and also ranked few articles of my blog on Google as you can see below.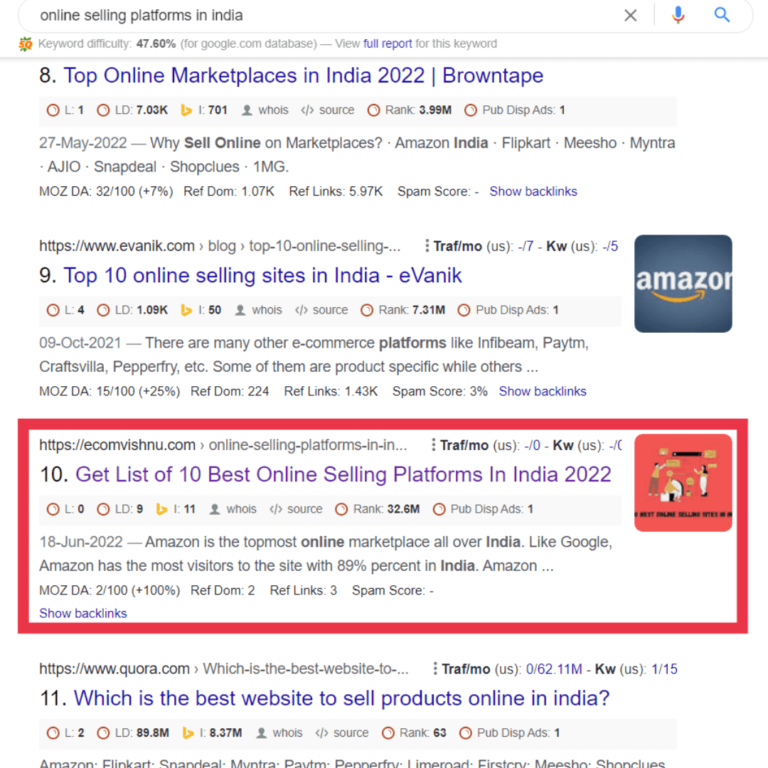 The blog helped me to enchance my SEO skills and dig deep into new things while implementing things on my own site and rank for different keywords for every particular pages.

In the meanwhile, I got two freelancing projects from my SEO Community for Local SEO which are based in the US. 
Later in the process, I also got an opportunity to work with Testbook an Ed-tech Company as SEO Intern for six months.
After completing six months, they asked me to continue another 6 months, but I rejected to focus on my freelance clients to deliver them good results and also on my blogging career.
Then I started this SEOvishnu Blog to share my knowledge and give tips, tools, and strategies to others and help in their journey of SEO for their websites.
Also, Right now, I'm getting offers from organizations to work for them, but  I'm sticking to freelancing and blogging, If everything goes well it would be great, otherwise, I should decide which path to focus more while in the process.
That's it, this is all about my journey over the past few years. An engineer, a sales executive turned into SEO and Blogger. And just want to tell you one thing
"Pick What You Have In Front You, And Go With The Flow To Pick What you Don't Have, In Your Hands" ~ Vishnu Reddy
And my main goal is to help and transform all the individuals, small businesses, 
and bloggers out there into a never-failing entity. For them, I want to be a game changer.
As we know the pandemic has affected many individuals & business owners, and many businesses were forced to shut down. Indeed, it affected me too. 
Later, slowly people started new things and entered into different areas of businesses or works, but right now due to competition, every individual or biz owners facing problems to make a sustain money.
I would be delighted and feel blessed if more individuals or entrepreneurs made money with my SEO skills.
I am looking forward to help you by sharing SEO and Blogging stuff on this site, so that you can implement things at your own pace. 
" Be Productive Be Patient "