Most people think SEO is just placing keywords and optimizing every website in the same way for search engines.
But it's not, there are different types of SEO in digital marketing that you need to know while optimizing for search engines like Google.
And, SEO is a part of the entire digital marketing strategy, and the value of SEO is increasing day by day for every business out there.
So, I have written this article in quite a simple way to make you understand the different types and techniques in SEO.
Let's begin.
What is SEO in Digital Marketing
SEO a.k.a search engine optimization is the process of optimizing your website to rank on SERP at the top of the organic search results.
If your website ranks on top search results on Google for the right keywords of your target audience, then your site gets organic traffic, and there will be a conversion on your site organically.
So keeping it in mind, google only shows ten results on the search engine results page.
So, to acquire top results, you need to perform different types of SEO activities with valuable content in your hands, per your business niche.
What are The Main Types of SEO
There are 13 different types of SEO in digital marketing, and the common thing in all these types of SEO is to rank your website better on SERP and bring traffic to the site.
And also, there are some types of SEO techniques involved in SEO types while optimizing your website for search engines.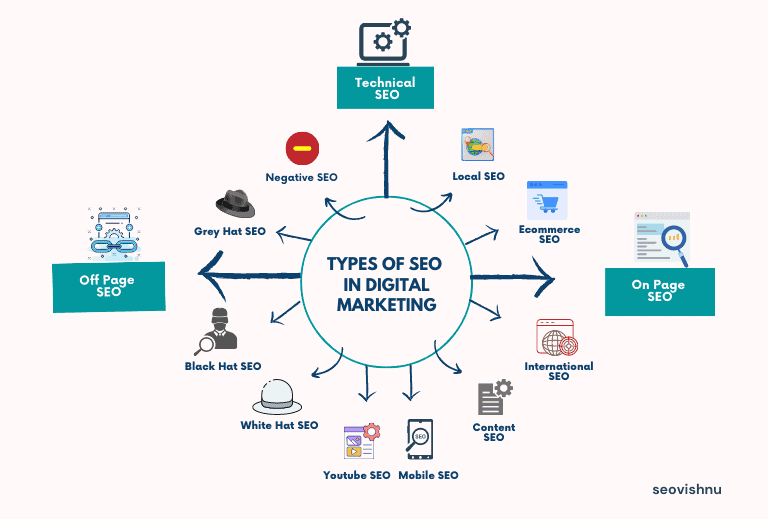 These 13 types of SEO are further categorized into 9 main types of SEO and 4 types of SEO techniques.
Below are 9 main types of SEO
Technical SEO
On-Page SEO
Off-Page SEO
Local SEO
E-commerce SEO
International SEO
Content SEO
Mobile SEO
Youtube SEO
And below are the other 4 types of SEO techniques.
White Hat SEO technique
Black Hat SEO Technique
Grey Hat SEO Techniques
Negative SEO
I hope you got some clarity,
Now,
Let me describe all 13 types of search engine optimization together below.
1. Technical SEO
Technical SEO is the first necessary process for your website in Search Engine Optimization. It is a process of optimizing your website as per technical requirements for search engines.
It is technical because it has to do nothing with your website's content or promotion. Here, You need to optimize your website to search engines to crawl and index your website without any problem.
And, it also focuses on improving the functionality of the website by optimizing all the technical elements, which also helps to improve website performance.
If your website has any technical issues, it will not be indexed; if else indexed, it will only rank unless you fix the problems as per technical SEO guidelines.
Search engines like Google always prioritize ranking websites based on good website architecture, Fast loading speed of a site, responsive design, etc, which also helps in a positive user experience.
The main goal of technical SEO is to help search engines find your content and index it to make a way to rank it on SERP.
Some of the Common tasks involved in technical SEO are
Accessible of the website to search engines
Optimizing Site structure and navigation.
Page speed optimization.
Fixing broken links
Implementing Structured data
Creating sitemaps and many more.
2. On-Page SEO
On- Page SEO is the second most crucial process for your website in search engine optimization. It is the process of optimizing every single web page of your website to rank higher in SERP (Search Engine Results Page). 
On-Page SEO is also called On-Site SEO. It has to deal with the page's content and the HTML code.
The main goal of On-Page SEO is to help search engines(crawlers) understand your pages' meaning and context.
It is On-page SEO because you only work on your website with on-page elements to optimize for crawlers and users to rank on SERP.
On-page SEO and technical SEO are what you need to take care of before going into off-page SEO. If these two types of SEO are done properly your site will be indexed and visible on search.
The main components of On-Page SEO are
Title and Meta description optimization
URL optimization
Heading optimization
Image optimization
Internal linking
External Linking and other elements.
Also Read: Advantages and Disadvantages of SEO
3. Off-Page SEO
Off-Page SEO is the third necessary process for your website in search engine optimization. And it also carries a lot of weightage for ranking your website.
It is the process of promoting your website on the web to improve the ranking of your website on SERP (Search Engine Results Page).
Off-page SEO is also called Off-Site SEO. It refers to actions taken outside your website to impact your rankings within SERP.
Off-Page SEO gives search engines(Google) a good indication of how the world(other websites and users) think about your website.
The important activity involved in off-page SEO is link building. And, It is the process of building or getting a link for your website from high-authority relevant websites.
The main goal off-Page SEO is to bring the audience(traffic) by acquiring Links from High Authority Platforms or Websites, that help search engines build trust in your website.
It is off-page SEO because you only work to promote your website/web pages to build trust among search engines and users to improve rankings.
Some of the components of Off Page SEO are
Link Buiding (backlinks)
Brand Mentions
Social media promotions
4. Local SEO
Local SEO is essential for small and local businesses to rank top on SERP within the local search.
Local SEO is optimizing your website to get targeted traffic from the Local area/city when a user searches for products or services locally.
And, the visibility of small businesses in the local area is increased by performing local SEO. It also helps to get quality leads and improve brand awareness.
The main goal of local SEO is to target specific local audiences searching for your products/services within your local area, and convert or make them visit your physical store.
If you want your business to appear in the search results on Google, it is necessary to create Google Business Profile(GBP).
GBP is Google's local business directory. You can register for free. And local SEO focuses on both optimizing GBP and the websites of a local business.
Common steps of local SEO include
Optimizing Google Business Profile
Local Competitors research
Local Keyword research
Optimizing a website for the Local area
NAP citations ( Name, Address, Phone numbers)
Building backlinks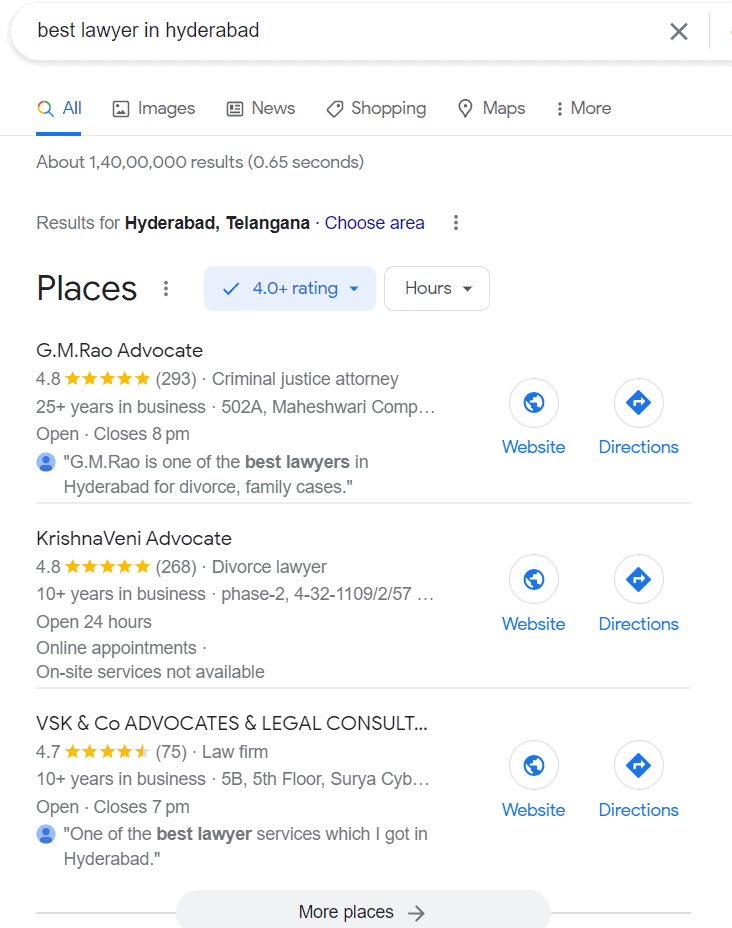 5. E-commerce SEO
E-commerce SEO is another type of SEO that only focuses on websites selling physical products to customers.
It is the process of optimizing online shops( websites) for search engines and users.
In eCommerce SEO, it includes all concepts of regular SEO and additional guidelines specific to the e-commerce websites that do not apply to other types of normal websites.
For example, in e-commerce websites, the category and product pages are crucial in SEO and blog pages. In contrast, on regular websites, there will be no importance on category or product pages.
The main goal of eCommerce SEO is to create informational content around your products that gives value to the users and drives traffic to the site.
The traffic from the informational pages will be transferred to the category or Product pages using internal links, which may result in a purchase of products from the customers.
Some of the common steps involved in e-commerce SEO are
Optimizing category and product pages
Creating content around informational keywords
Internal linking to a product or category page.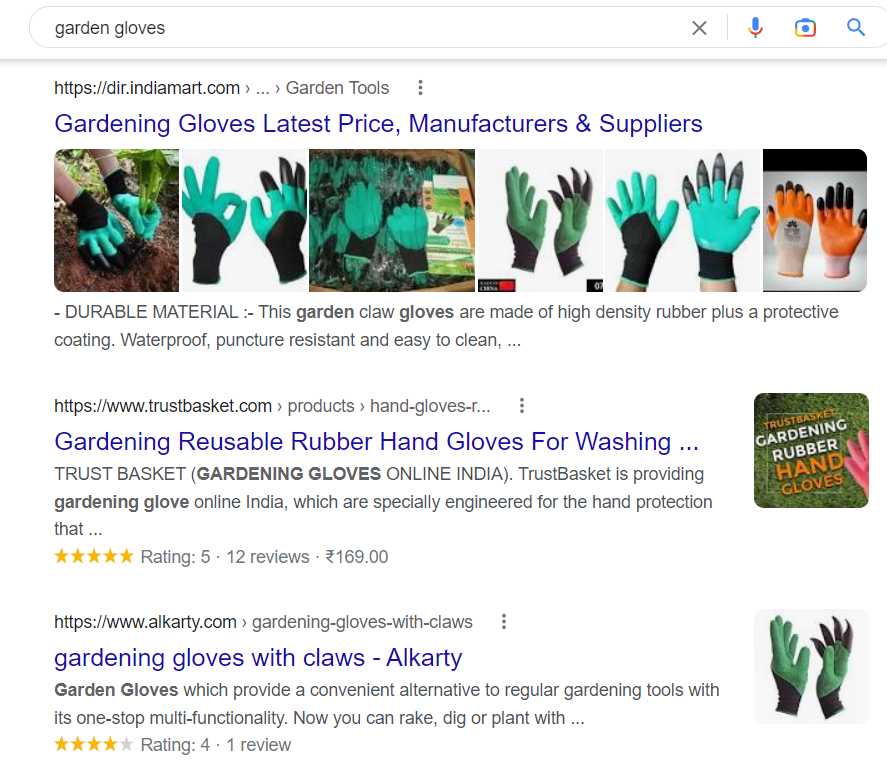 6. International SEO
International SEO is optimizing your website for users to target across multiple countries and languages.
The process tells search engines to improve the website rankings for people in different countries and speaking other languages.
International SEO involves other activities with regular SEO, such as implementing geo-targeting, Hreflag tags, and other localization signals, etc. to serve your website content worldwide.
The main benefit of international SEO for your business is that you will get exposure from different countries, and your brand will reach a global audience.
It is crucial for businesses who want to take their business globally and for websites to rank well in search engines in different countries.
Also Read: How to make SEO friendly website here!
7. Content SEO
Content SEO is about optimizing the content or producing high-quality content for the users. And quality unique content right on your website will help you to rank higher on the search engine results page.
If you are the one who produces a lot of content and thinks Google will rank it, then you're going in the wrong direction.
It's not about the quantity of content, it's all about the quality of the content, which should be unique and should satisfy the user intent.
So if you want to satisfy user intent with quality content, you need to understand different types of keywords in SEO and the user intent behind the keywords to produce quality content.
And, if you combine quality content with quantity, Google will love it and rank your pages on SERP.
The things that should consider in content SEO are structuring content, having a keyword strategy, and using images or infographics, etc., that attract and solves user problems.
And not only that, but content SEO is also about optimizing existing content on the site to perform well and rank higher on Google.
8. Mobile SEO
Mobile SEO, as the name says, it is the process of optimizing your website for mobile search results.
With the increase in smartphone usage, the search demand is more from mobiles rather than desktops.
And Google also mentioned that it takes the performance metrics of a website on mobile devices to rank it on search results of a desktop.
So, the number of mobile users is increasing daily, and if you're making your website mobile-friendly, you will gain rankings on SERP.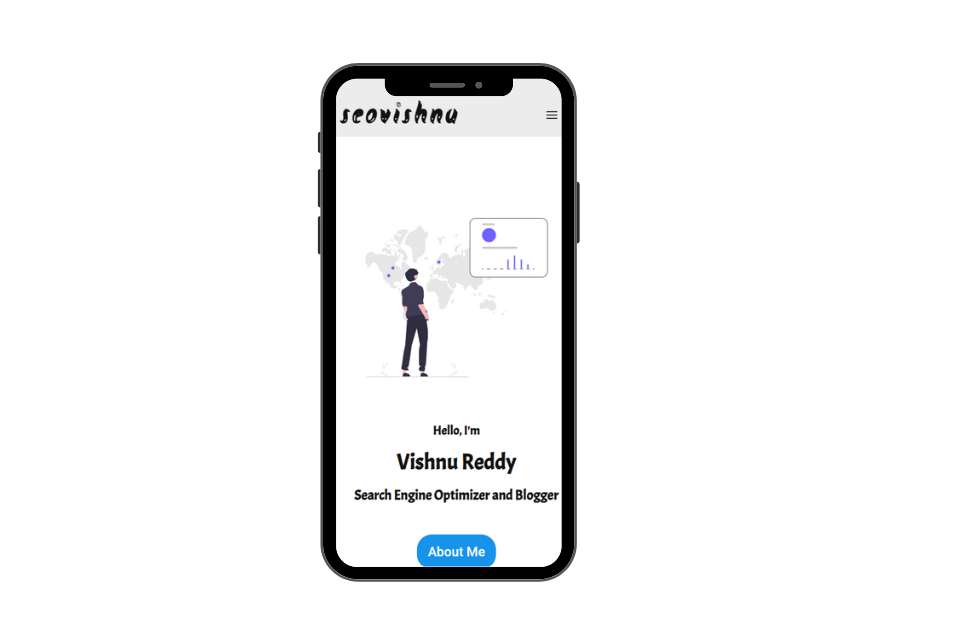 9. Youtube SEO
Youtube SEO is optimizing your videos to rank higher on youtube and Google search results.
I hope you know that youtube is the 1st largest video search engine and the second-largest search engine in the world after Google.
If you create video content along with blog articles on your website and optimize it well, you can rank on both search engines.
There are many factors involved in youtube SEO apart from standard fundamentals of SEO.
So, if you love to create videos focusing on your business-related product or services, then youtube SEO is mandatory and helps drive traffic to your site.
Youtube SEO involves, Performing youtube keyword research and creating videos, Optimizing the metadata of videos, etc.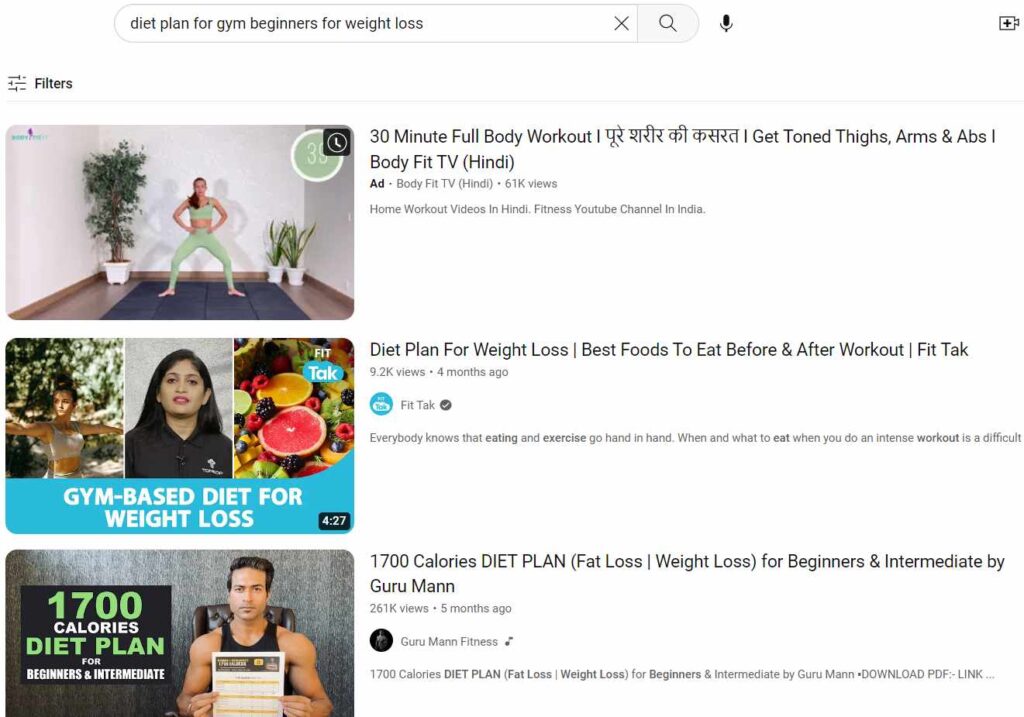 10. White Hat SEO Technique
White hat SEO is a technique that follows Google guidelines while optimizing the website for search engines and users.
As we know, there will be guidelines for any particular product to utilize for our benefit. In the same way, google has some procedures which should be followed by SEOs or website owners while optimizing to rank.
It is the process where you optimize your website genuinely to rank on SERP without manipulating search engines.
If you follow Google guidelines while performing SEO, then your site will never be impacted or penalized by Google.
White hat SEO needs patience, and it takes time to see results. It is a recommended technique because you will benefit in the long run and see some results for your website.
Examples of white hat techniques include
Performing keyword research and creating quality content
Performing on-page SEO without manipulating Google
Earning relevant backlinks and building authority.
11. Black-Hat SEO Technique
Black hat SEO is a technique that doesn't follow Google guidelines while optimizing the website.
In this process, the optimization involves different tactics against Google guidelines, where trying to rank higher in SERP.
If you do not perform SEO as per guidelines, your site will be penalized in the long run or at a specific time.
The black hat SEO techniques are not recommended to perform, because your site will be hurt when the algorithm changes or updation takes place.
Examples of black hat techniques include
Keyword stuffing in the content
Buying backlinks
Creating Duplicate content
PBN Network links and other activities.
12. Grey-Hat SEO Technique
Grey hat SEO is the combination of both white hat and black hat SEO techniques.
It is a process that involves 80-85% of white hat techniques and 10-15 % of black hat techniques.
It is less harmful than black-hat SEO but more harmful than white-hat SEO.
Some agencies or SEOs utilize the grey hat techniques to get some attention from Google if it is a new website.
They use it because there are a lot of similar products or services on the internet for Google; so, to get that attention from Google, we need to push our website to fall in Google's eyes.
The grey hat technique does not get caught easily compared to black hat SEO, but in rare cases, a site can get penalized by Google.
Examples of Grey hat techniques include
Link exchanges between the sites
Paid reviews
Purchasing expired domains, etc
13. Negative SEO
Negative SEO is another technique involving tactics that intentionally lower the competitor's search rankings to outrank them on SERP.
The tactics involved in negative SEO are, building low-quality backlinks to the competitor's site and publishing fake reviews or feedback on competitors, on different online forums or discussion boards on the internet.
If you are a site owner, you should not worry about low-quality backlinks pointing to your site because there is disavow tool by Google where you can upload a sheet of low-quality links pointing to your site to tell Google not to consider them.
And also, many algorithms run behind, and any person caught doing negative SEO can lead to different legal issues
Conclusion
Hence, you must be aware of these types of SEO in digital marketing while performing Search engine optimization.
At the end of the day, If you want your website to rank on Google, you need to know your target audience; by understanding your target audience, you can implement these different types of SEO strategies as per your requirement.
And technical SEO, On-page SEO, and Off-page SEO are crucial for every website. All three combined give us other types of SEO that you can focus on depending on your business niche.
Above, I also mentioned the types of SEO techniques, and you must implement white hat SEO techniques that will benefit your business in the long run.
I hope this article gave you some insights on SEO types. If you have any queries, you can ask me in the comments. I will read and reply.
If you're interested to know about the difference between short and long-tail keywords. Please go with the below link
Short tail and long tail keywords
Thank you for your time, see you again in another article.
FAQs
What 4 pillars are important in SEO?
High-Quality Content, On-Page SEO, Technical SEO, and Off Page SEO are the 4 important pillars of SEO.
What is black hat SEO vs White hat SEO?
Black hat SEO is a technique performed to manipulate search engines to improve rankings. And, White hat SEO is a technique that follows google guidelines while optimizing the website.
Which SEO should be avoided?
Black Hat SEO is a technique against google guidelines. Performing this SEO technique would be avoided.
What are the 5 types of SEO?
The five types of SEO are On-Page SEO, Technical SEO, Off-Page SEO, Local SEO, and E-commerce SEO.