Cloudways is a hosting provider that offers managed cloud hosting for your websites, they provide a comprehensive platform that empowers websites with high-end cloud hosting solutions.
The number of websites and online businesses is expanding quickly, and the success always depends on the hosting company.
Usually, businesses attempt to provide smooth experiences to users, make sure that their website has data security and optimal performance, and many more.
In this article, Let me take you through Cloudways review and see how Cloudways stands out as a trustworthy, reliable, and versatile hosting partner in satisfying those essential criteria.
Overview of Cloudways
Cloudways Review: A Quick Overview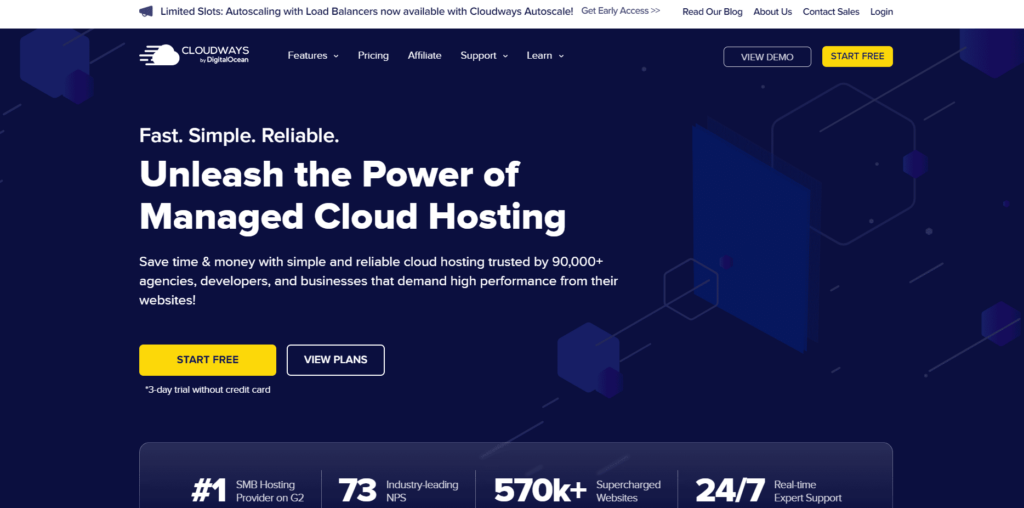 Cloudways is a renowned cloud hosting platform that offers businesses and individual websites the ability to manage and deploy web applications on different cloud infrastructures.
They provide a user-friendly interface, reducing the complexity of server administration, and making sure that users focus on their core businesses while they enjoy the benefits of reliable and high-performance hosting. 
Founding and Growth
Cloudways was founded in 2012, they successfully provide service in 20+ countries and have 280+ employees. Users looking for a hassle-free hosting service were drawn to the company's dedication to making complicated technological operations simple.
Due to its commitment to offering top-notch services, Cloudways has seen substantial development and built up a devoted customer base over the years and established as one of the topmost best wordpress hosting in the market.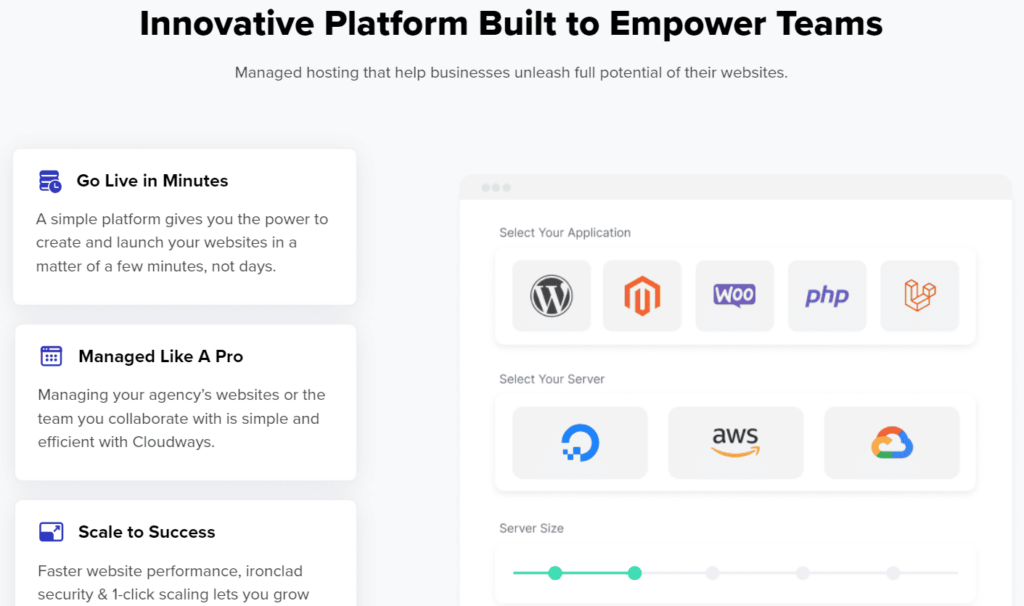 Current Market Standing
Cloudways is one of the leading players in the hosting industry, they are known for their ability to service a range of clients, including startups and enterprises. Its adaptable strategy to cloud hosting has contributed to its consistent growth and has a positive reputation among all kinds of businesses that are seeking reliable and scalable hosting solutions.
Key Features and Advantages
In the hosting industry, Cloudways stands out because of several features. They include:
Features
Free SSL Certificates, 1-click WordPress Installer, Backups,
Cloudflare CDN, Unlimited Applications, Staging site,
Breeze Cache plugin, Vertical Scaling.
Average Speed
1039 ms
Uptime
99.9% uptime guarantee
Data Centers
65+ Data Centers across America, Europe, Australia, Asia
Servers
Combination of Apache, Nginx and LAMP
Backups
Offers On Demand and Scheduled backups,
One-click Restoration, Backup Charges: $0.033/GB
Security
Free SSL, 2FA, Dedicated firewalls, Bot protection,
regular security patching, Login security and more
Support
24/7 Live Chat Support, Email, Knowledge base, Community Forum
Hosting Plans
DigitalOcean (Premium & standard), AWS, Google Cloud
Pricing
Starting from $11/month (DigitalOcean)
Payment Options
Credit card or Debit card (Visa, MasterCard, and American Express),
PayPal (Manual Payment)
Refund Policy
3-day free trial offered (No Refund policy)
Detailed features of Cloudways
User Experience and Interface
Cloudways offers a user-friendly interface, they have designed such as way that even beginners to professionals can use it without any difficulty.
The interface of Cloudways has the custom panel, they do not have Cpanel like Hostinger or Chemicloud. The traditional like Cpanel will be behind the custom panel of Cloudways.
The main Custom control panel provides the access for both Server level access and Application level access for the users.
So, as a user you can do activities without being confused by switching between severs and applications by a single click because of simple controls, labels, and menus. You will spend less time understanding complicated interfaces and more time concentrating on their digital objectives because of the interface's simplicity.
Server Choices
Cloudways has different server providers available.
Digital Ocean
Digital Ocean is the number-one hosting provider for Bloggers, Small businesses, and Developers. They're powerful when combined with Cloudways and they give you a reliable, scalable, and worry-free managed hosting experience with 24/7 expert support for your reassurance.
They provide a few extensive features for the website like:
1-Click Workflows: You can start using 1-click workflows to create app/server clones, restore backups, and more instead of laborious and complicated methods.
Managed but under your control: You can concentrate on expanding your business by taking advantage of limitless websites and visitors per server, strong add-ons, flexible processes, and simple vertical scaling.
Optimized Stack: To ensure the best performance, quickly deploy a DigitalOcean server with a pre-installed stack that includes Nginx, Apache, Memcached, and application-level caching like Varnish & Redis.
They will charge up to $0.033/GB per server for your offsite backup storage.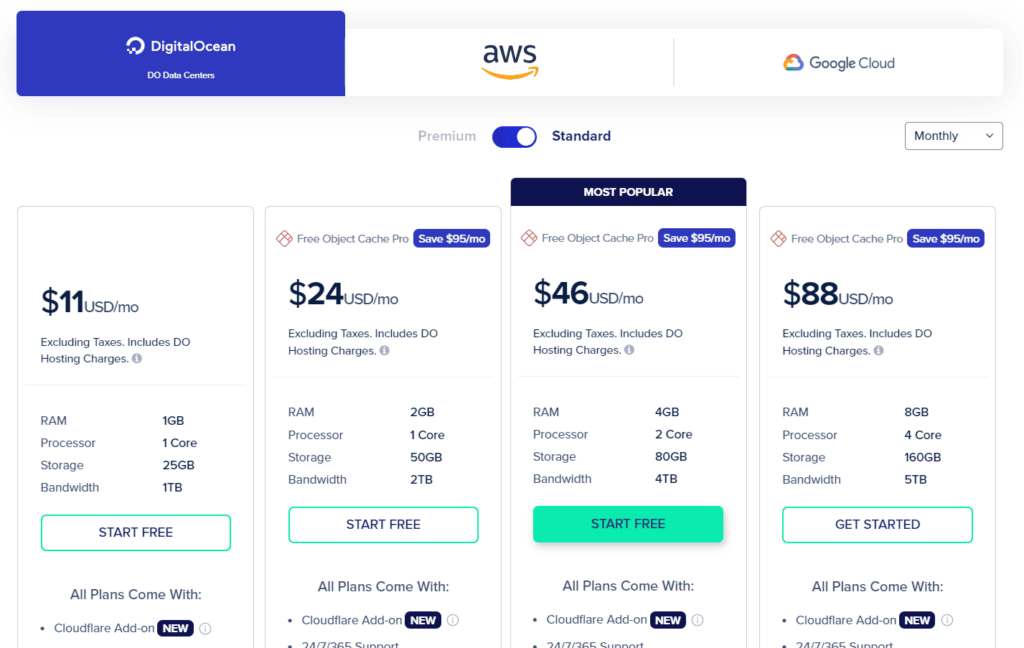 Amazon web services
Cloudways has managed the Amazon cloud hosting platform that allows developers, agencies, e-commerce businesses, and other businesses to build and scale their web applications peacefully. They provide advanced Add-on support for a closer support partnership, or you can have access to Senior support engineers for customer support.
A free trial is not available in Amazon web services, hence you need to upgrade to launch and access AWS servers.
Disk sizes are configurable and Bandwidth is on a pay basis.
They cost around $0.033/GB per server for offsite backup storage.
Google Cloud
This hosting is very easy to use and is completely managed by the Google Cloud hosting platform for e-commerce businesses, digital agencies, and developers. Hence, Instead of spending time on server management and maintenance, concentrate on your business.
They don't provide a free trial for Google Compute Engine, for using GCE servers to begin and be accessed, your account must be upgraded. They will charge $0.33/GB per server when you will be applied for Offsite backup storage.
Google Cloud hosting is a solution that fits your needs for Solutions for Individuals, Solutions for Ecommerce, Solutions for Agencies, and Solutions for SMBs.
Performance
Nowadays, the speed at which a website load plays a very important role to determine customer satisfaction. And, Consistent Uptime is very crucial to maintain a continuous online presence.
As, Cloudways reviews states that it is unbeatable in Uptime performance, they provide 99.99% uptime to a variety of hosting plans.
Cloudways data centers are located across the world, when it comes to speed and performance, they make sure that users have excellent rates in all the server locations.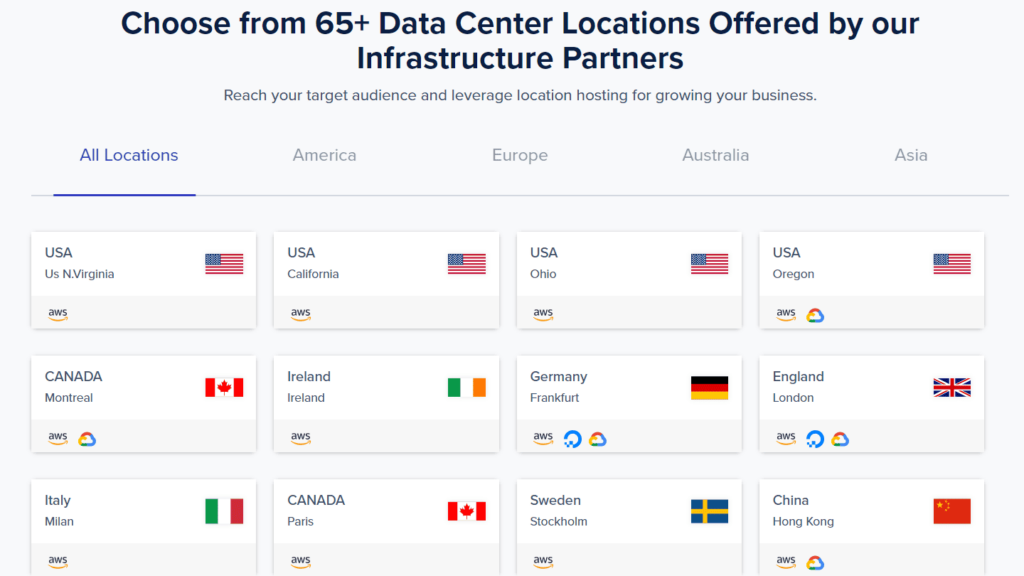 Server response time is a metric that measures how quickly a server reacts to a user's request. It directly affects the time taken by users to spend interacting with websites, like clicking links, submitting forms, etc.
Cloudways always places a strong importance on optimizing server response time through efficient configurations and load-balancing techniques. Cloudways always aims to create a consistent browsing experience that keeps website visitors engaged and satisfied.
Content Delivery Network (CDN) Integration is a very powerful strategy to increase performance on a global scale. Cloudways recognizes the value of CDN integration and offers simple integration options, that helps to deliver optimized content and make available to users with the help of reputable CDN provider.
Security & Backups
When it comes to Security, Cloudways has the best security among the other hosting providers. They provide SSL certificates, firewalls, daily backup systems, bot protection, and many more.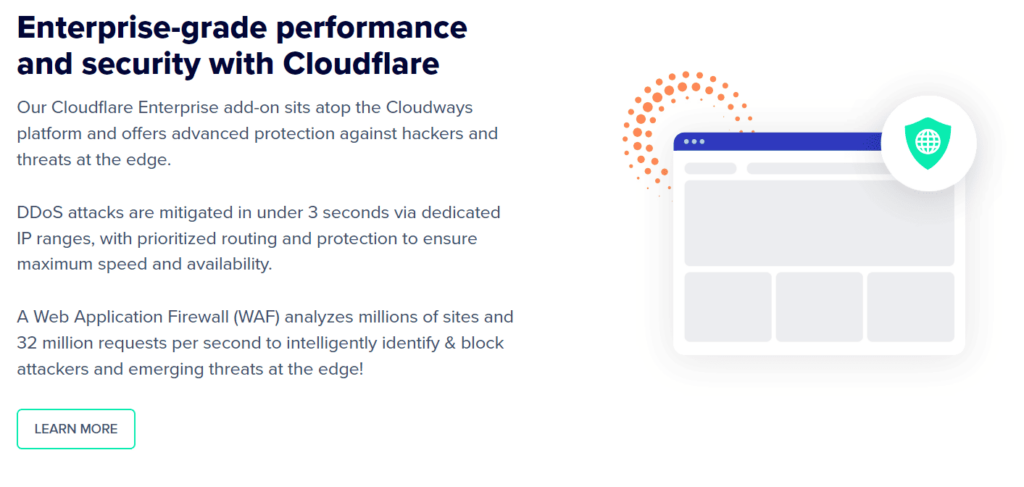 Each plan of Cloudways has free SSL certificates, which you can easily set up with a one-click installation, assuring visitors that their data is secure and interactions are encrypted.
After researching and looking into Cloudways reviews, they provide Security that has two-factor Authentication and also bot protection to keep your servers safe from any intruder.
Advanced DDoS Protection with Cloudflare, is an add-on that is unique to have Cloudways IPs which prioritizes routing for enterprise-grade mitigation of DDoS attacks, this keeps your server online and protected at all times.
Losing data may have disastrous effects for both individuals and businesses, and Cloudways understands the value of data hence they provide comprehensive backups and recovery solutions for all Cloudways plans.
As a user, you can preserve data and respond promptly to automated backups and simple-to-use restoration tools. Critical data is kept intact and recoverable that has ability to set backups at regular intervals and retrieve backups through an intuitive interface.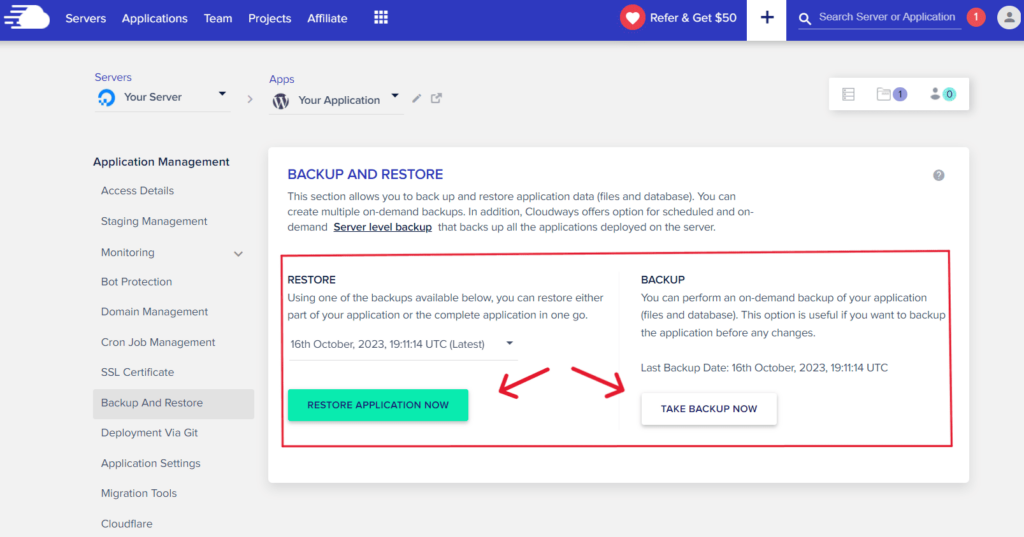 Scalability
In today's digital assests(websites) , one of the keys to success is the capacity to grow resources effectively. Hosting companies like Cloudways offer solutions that address both individuals and start-ups, since they are aware of the various demands of both consumers and businesses.
Cloudways allow users the capacity to easily scale their resources as necessary, through intuitive dashboards and user-friendly interfaces, storage, bandwidth, and Users can simply assign extra computing power.
Whether it's about handling unexpected spikes in traffic or major product launch, to ensure that resources may be scaled up or down with a few clicks, Cloudways offers a seamless experience. Cloudways have a flexible nature in infrastructure that allows websites to embrace expansion without being limited by conventional hosting approaches.
Customer Support
Cloudways provides excellent customer support for the users, it is impossible to emphasize the significance of quick and effective customer service in the complex world of web hosting, where queries are raised, problems appear, and assistance is required.
When technical issues arise, a swift response time is essential to keep users on track and have minimum disruptions., Cloudways places a strong importance on prompt response times and is aiming to provide timely assistance that keeps user's operations running smoothly.
Cloudways works to respond to questions and issues quickly by deploying teams of experienced support professionals, this helps to make sure that users get the help they require right away.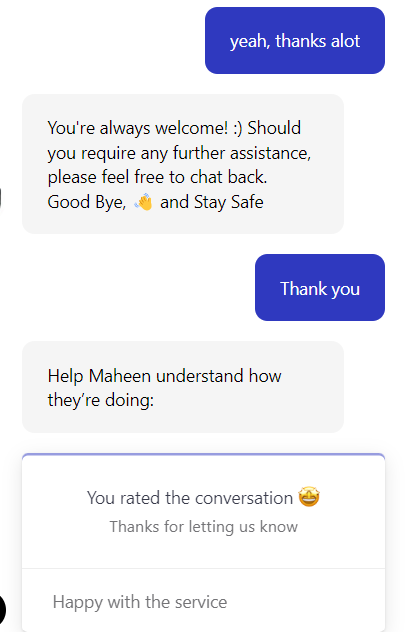 For most customers standard support is more than enough, Cloudways provides
Email support
Free 24/7/365 live chat support.
Phone call support
Has a Knowledge base and community form
Proactive monitoring
Customization support
Infrastructure support and platform support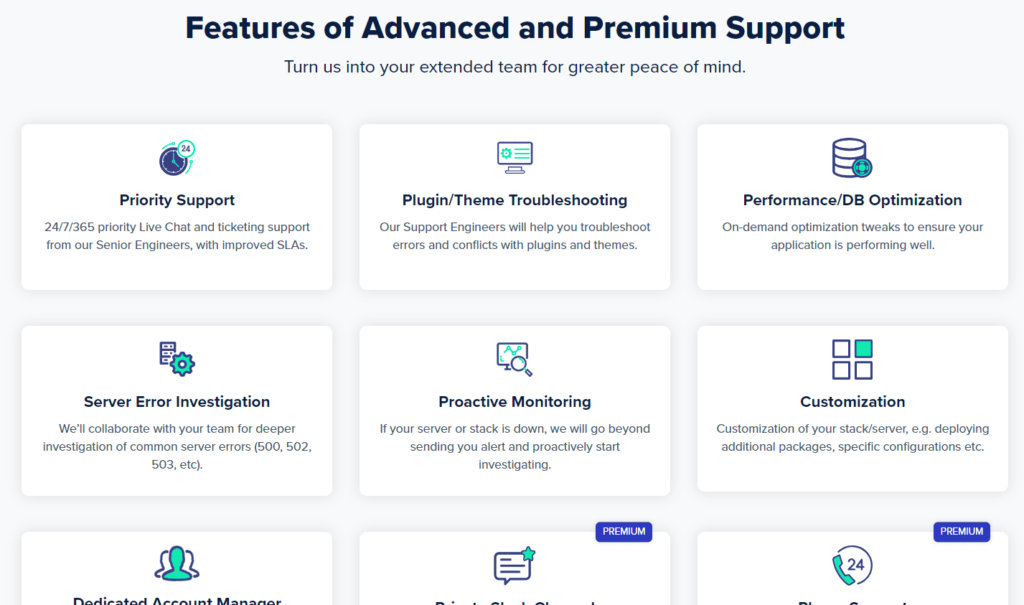 Cloudways attempt to deliver a high standard of service through knowledge and compassionate customer service agents. Cloudways provides consumers with insights, solutions, and help that enable them to make knowledgeable decisions and overcome obstacles by keeping a staff of specialists knowledgeable about hosting.
Beyond only fixing issues, a high-quality service also attempts to win over customer's trust and create enduring relationships with them.

Cloudways Pricing
Cloudways provides different plans along with different server providers, now let's explore the plans by comparing them with other servers.
Digital Ocean
AWS
Google Cloud
Starting Plan(Monthly)
$11 USD/mo
$ 38.56 USD/mo
$ 37.45 USD/mo
Premium Plan(Monthly)
$99 USD/mo
$ 285.21 USD/mo
$ 241.62 USD/mo
Storage
25 GB For starter plan
180 GB for Premium plan
20 GB For starter plan
20 Gb for Premium plan
20 GB For starter plan
20 Gb for Premium plan
Bandwidth
1TB for Starter plan
5TB for premium plan
2GB for Starter plan
2GB for premium plan
2GB for Starter plan
2GB for premium plan
SSL Certificate
Yes
Yes
Yes
Free Business Email
No
No
No
Uptime Guarantee
99.99%
99.99%
99.99%
Automated Backups
Yes
Yes
Yes
RAM
1 GB for starter plan
8 GB for Premium
2GB for starter plan
16 GB for Premium
1.75 GB for starter plan
15 GB for Premium
Customer Support
24/7 Support
24/7 Support
24/7 Support
The Cloudways pricing structure is designed to provide users with flexible options that cater to varying requirements. Cloudways follows a pay-as-you-gomodel, it allows users to scale resources based on demand. This makes it excellent for both startups and businesses since users may choose the proper plan and resource levels based on their needs.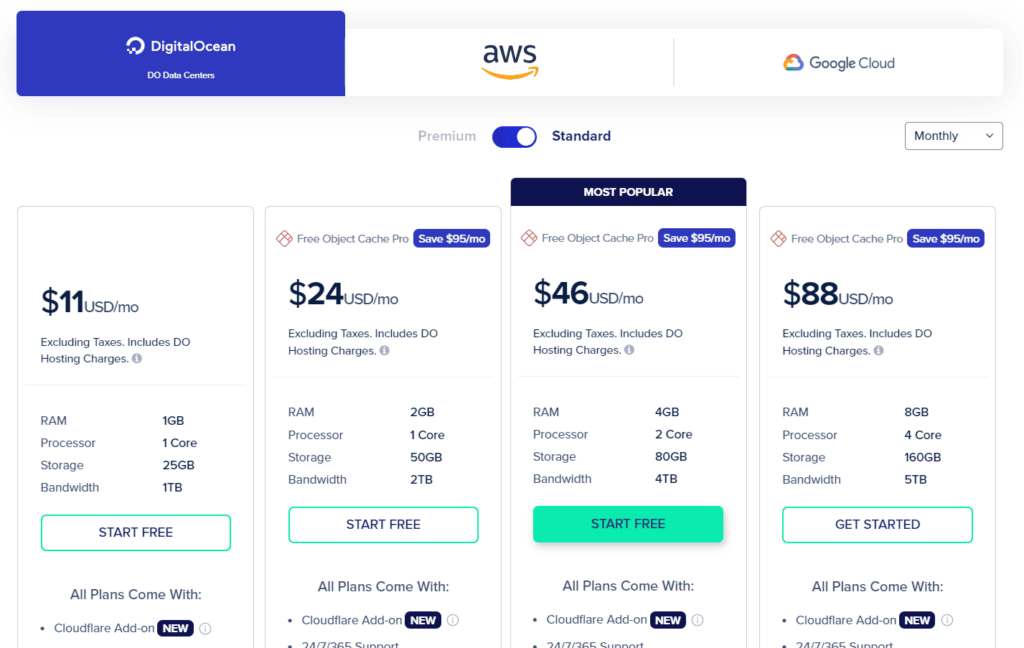 After reading the Cloudways hosting reviews, the pricing comparisons show how affordable the services are when compared to those of other hosting companies. Cloudways stands out by providing a price that is adaptable and customized to the user's needs when compared with other hosting providers, Cloudways offers a balanced combination of performance and affordability.
To provide consumers with a high-value proposition, Cloudways offers a variety of functionalities, including performance optimization, security, user-friendly interfaces, and many more when compared to all competitive prices. Users may choose the resources that best suit their requirements, ensuring that they obtain a solution that fits their budget and gives them the tools they need to succeed.
Pros and Cons of Cloudways
Pros:
Easy to Set up
Servers are located across the world.
24/7/365 Live Chat support
Multiple options of Cloud Hosting variety like AWS, Digital Ocean, Google Cloud etc;
Good Website Performance.
Free SSL certificate, Free migration, and Staging environment.
Automated Backups, optimized advanced caches.
Good Basic security for Websites, with Dedicated Firewalls, and 24/7 Real-time Monitoring
Cons:
Limited time for the Trial period.
Domain registration option is not available.
Poor advanced security.
Email Hosting is not free, and charges an extra amount.
Gives many choices, which leads to confusion.
Real Customer Reviews
As we know, customer reviews always provide invaluable insight into the strengths and areas of improvement of the server providers. Now, let's dive into the world of customer reviews, and explore the positive feedback and testimonials.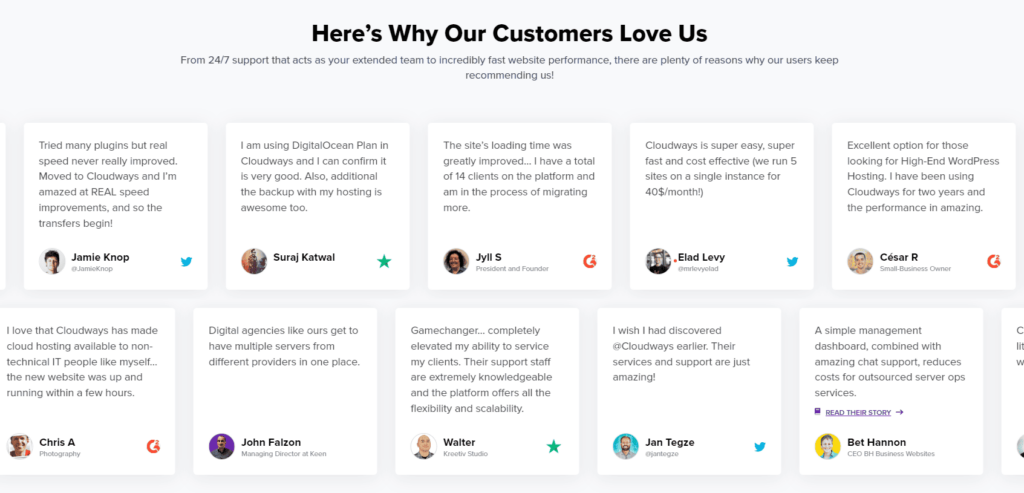 Positive feedback and testimonials give a testament to the strengths and achievements of hosting providers. Usually, users who have experienced consistent performance, and customer support, and give satisfactory solutions often share their stories. Positive testimonials always highlight the hosting provider's ability to meet any expectations and provide value.
Case Studies
Success stories from Cloudways users provide motivational accounts of victory in the digital world. These Case studies demonstrate how Cloudways solutions have enabled users to realize their aspirations, overcome challenges, and achieve their goals.
The Websites using Cloudways hosting are a testimonial to the diversity and versatility of the platform. It can be personal blogs or business websites to E-commerce stores and content-based platforms, a variety of websites that serve different markets and sectors are hosted by Cloudways.
By highlighting these well-known websites, Cloudways emphasizes its capacity to assist a variety of digital endeavors.
Cloudways hosting providers can help businesses to achieve success, few successful businesses that are using Cloudways are Hellenic Technologies, 123 Enterprise Inc., Ruby Coded, WebSuited, WebMaremma, Pioneer Media, Jan & Jul, WPFlat, Super Store, etc; are few companies that are able to scale their businesses through their websites.
Conclusion
To conclude, Cloudways enables companies and private websites to develop and manage web applications across various cloud infrastructures. They provide an intuitive user interface, simplifying server administration and enabling customers to concentrate on their core activities while taking advantage of dependable and high-performance hosting.
Since it has all the features required for WordPress sites, SSL certificates, backups, multiple cloud providers, a user-friendly interface, extended security, ease of use, application migration, Cloudflare CDN integration, application upgrade, 1-on-1 expert support, good performance to accelerate website loading times, and scalability, Cloudways stands out in the hosting industry.
There are several server options available through Cloudways, including Google Cloud, Amazon Web Services, and Digital Ocean each with its own set of features and benefits.
After looking into Cloudways hosting reviews, it has always been the best choice for all kinds of Websites, If your planning to make serious business from your website, Cloudways hosting will be great choice to invest. I appreciate you taking the time to read this post; I hope you found it interesting.
If you have any queries on regarding Cloudways hosting, feel free to ask in the comments. I like to read and reply.