Are you looking for the best WordPress hosting sites for your website? Well, don't worry you're at the right place looking for the right solution.
But, let's understand the meaning of WordPress, when we speak about WordPress the first question we get in our mind is 'What is WordPress".
Well, many definitions deeply explain WordPress, but you will understand it simply. "WordPress is the platform where you can create your website, publish blogs and your business products". It is the most popular Content Management System (CMS), About 43% of website content is built on WordPress.
Choosing the best WordPress Hosting for your website can be challenging. That's where I come in, to make you understand and choose the best hosting for your Blogging or for business website. In this article, there will be step-by-step guidance with detailed information and different features of hosting, which are considered for choosing the hosting services.
Top 10 Best WordPress Hosting Providers
These are a few top listed, which are considered as best hostings for WordPress websites.
Considering the above list, it will be a little difficult for choosing the hosting services, So I will briefly explain to you the services and their features.
1. Hostinger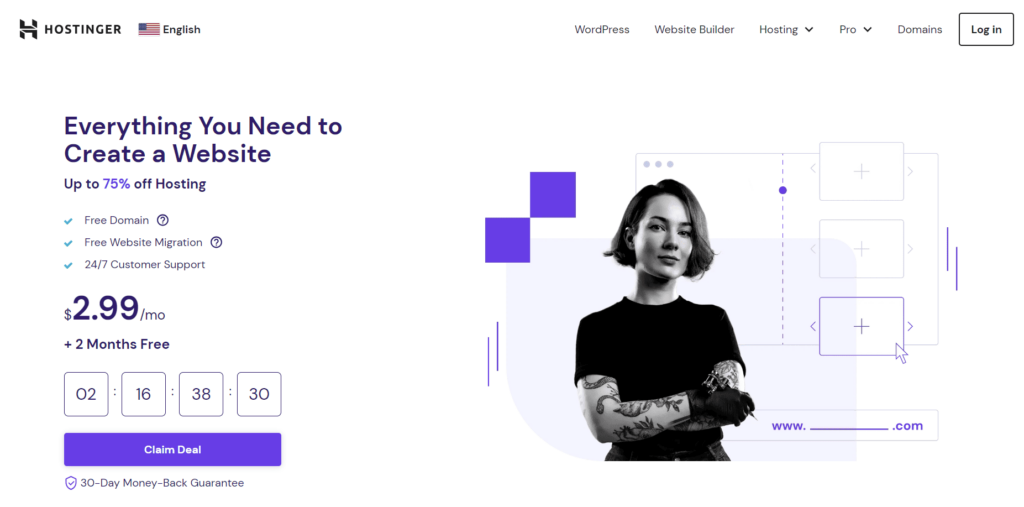 Hostinger is considered as best WordPress hosting, it is also considered the Overall Best hosting provider in the market. Their pricing plans are very affordable, this includes weekly/daily backups and free domains. The website has high security, high loading speed, and excellent SSD storage.
Hostinger has 4 types of Hostings servers:
Web Hosting, for small to medium websites
Cloud Hosting, for large websites
VPS Hosting, resources to scale for more.
Titan Email Hosting, for wide-ranging company promotion
Key-Features:
Unlimited bandwidth and storage from more minor to larger plans.
Free SSL for all hosting plans, WP-CLI, and SSH
Maximum website loading speed with LiteSpeed web server technology.
24/7 Customer support through email and live chat.
Protects your Website from DDoS attacks with Cloudflare nameservers.
It has all plans for WordPress Users.
The plans for Web hosting start from $2.99/mo as premium with 100 websites to $9.99/mo as Cloud Startup with 300 websites, with free Email in all hosting plans, free CDN in Business and Cloud Startup plans, Free Automatic Website Migration, Free 1-click WordPress Installation, WordPress Auto Updates, and more. Hostinger follows No-Code Website Builder methods.
Also read: Hostinger Review for detailed Features & Plans.
2. Cloudways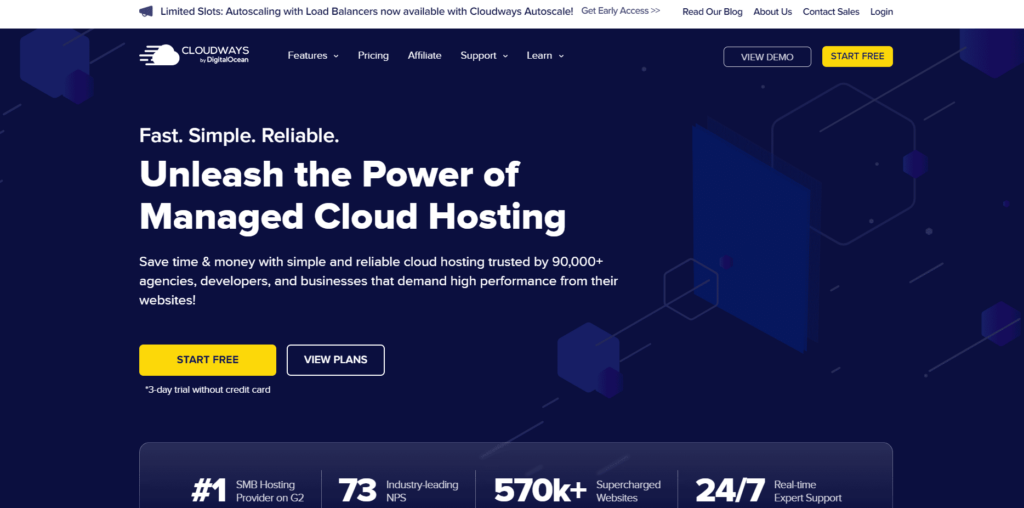 Cloudways provides all kinds of hosting, i.e. from WordPress Hostings to Reseller Hostings. It provides Faster performance to all websites, it gives a simple platform to create and launch your websites within a few minutes. It has a staging environment, automated/daily backups for websites, and Free SSL installation in one click.
Cloudways provides 6 types of Hostings:
WordPress Hosting, for websites that are looking to deliver performance.
WordPress Multisite Hosting is the best hosting that helps in managing multiple websites.
WooCommerce Hosting helps in managing online stores faster, more secure, and more scalable.
PHP Hosting, it's more powerful in performance, and it's friendly for developers.
E-commerce Hosting, for managing and focusing on growing your e-commerce business.
Reseller Hostings, for increasing recurring business revenue and profits.
Key-Features:
It's simple and easy to use.
Excellent Security for Websites including Cloudfare and Cloudways.
Website speed and performance are good.
SSD-based hosting makes the website run 3x faster.
All servers have dedicated environments and resources.
24/7 Customer support is provided.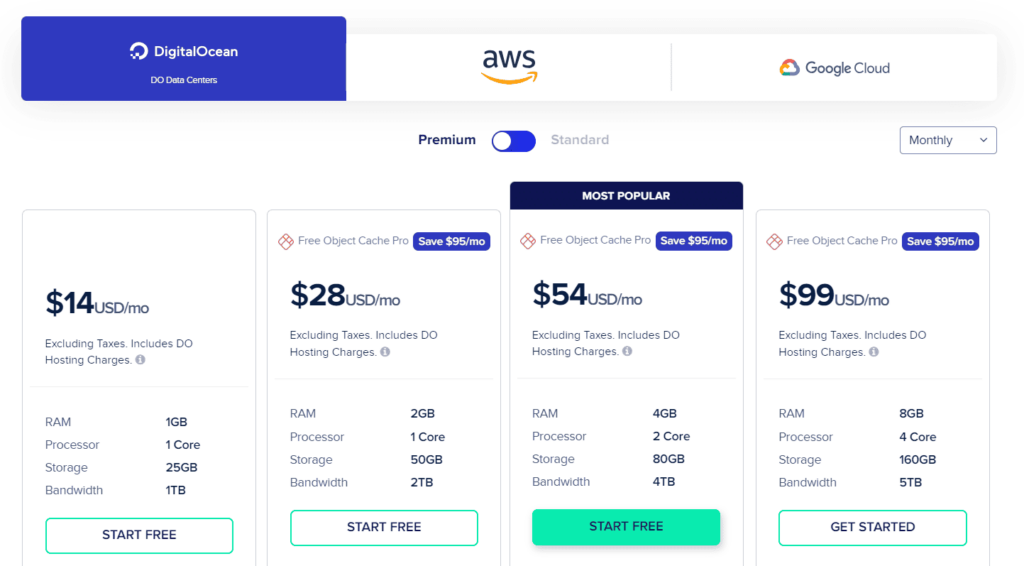 The Hosting plans start from USD 14/mo* to USD 99/mo*, these plans provide good Bandwidth, Unlimited Application Installation, Dedicated Firewalls, Free Migration, and many more. It enhances the website security which protects with WAF, Enterprise DDoS mitigation, etc;
3. Site Ground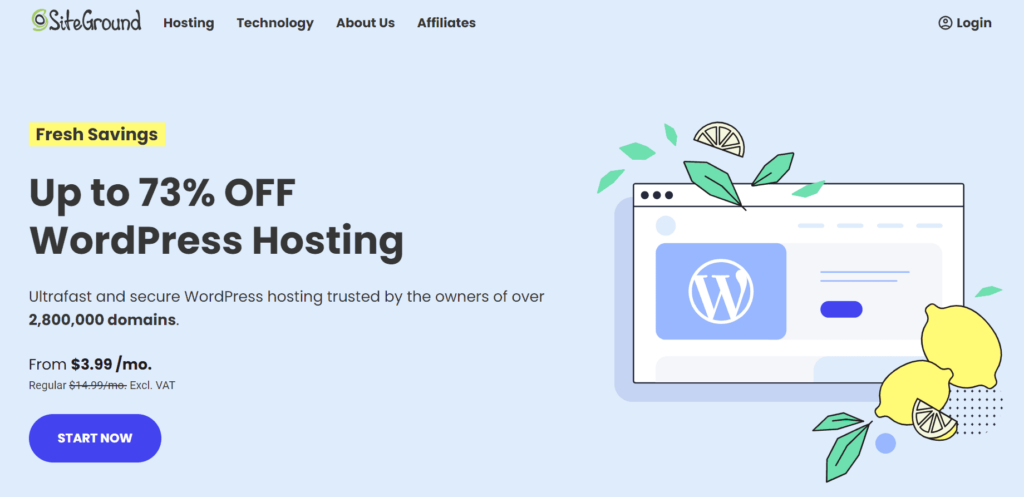 Is SiteGround one of the most popularly used WordPress Hosting? Well yes, it is. The key benefit is Security and speed as a result, anytime we host a website on SiteGround, security and speed concerns are eliminated.
Web hosting services from SiteGround include:
Web Hosting – For small and medium websites which provide fast and secure hostings.
WordPress Hosting – For managing your WordPress websites more easily and independently.
WooCommerce Hosting – Woo Commerce hosting that is optimized will help your business grow.
Cloud Hosting – For websites that needs high performance with cloud plans to grow business.
Reseller Hosting – For professionally maintaining multiple websites for various businesses.
Key-Features:
Performance and Speed have the fastest loading times.
Best Security features for websites.
24/7 Customer services through phone, live chat, and ticketing system.
PHP setup to make the website run faster.
Has more SSD storage.
It is constructed on the top-tier Google Cloud infrastructure for dependability, security, and performance.
The SiteGround has a strong focus on WordPress hosting, it has one-click installation, automatic updates on WordPress and plugins, and email services that let you set up your domain-based email addresses. The plans start from $14.99/mo as a starter pack with 1 website installation to $39.99/mo as a premium pack(GoGeek) with unlimited websites.
With every SiteGround plan, you will receive a free domain, website migration, a free CDN (Content Delivery Network), email hosting, and more.
4. Bluehost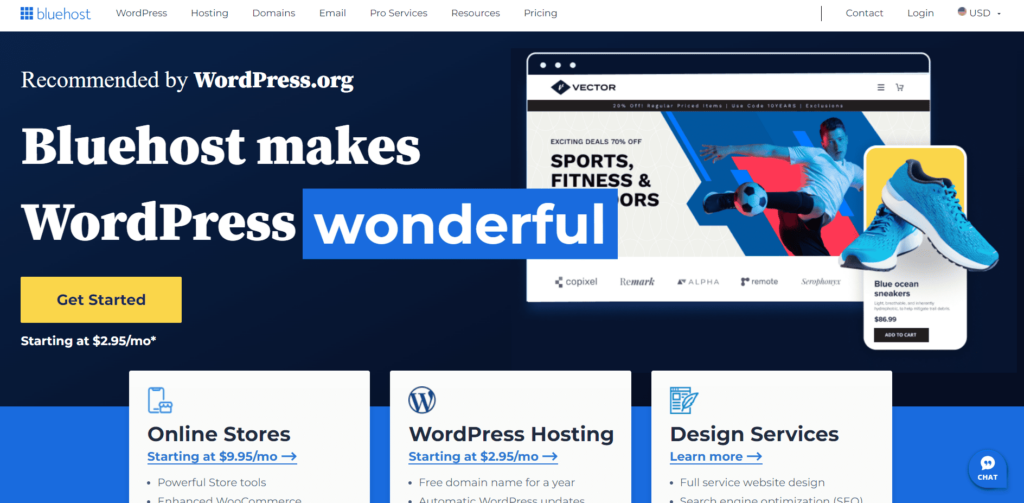 Bluehost offers WordPress hosting, and Woocommerce along with websites and online stores. It provides good SSD storage, with proper Security with includes Free SSL, Daily Website Back Up, Domain Privacy, Malware Scanning, Automatic Updates, etc, with professional Email setup.
Bluehost has 3 types of hostings:
Shared Hosting: It is the most easiest and economical way of creating Websites.
Dedicated Hosting: It is single Hosting which is all yours.
VPS Hosting: It works individually and has dedicated resources, best for business.
Key-Features:
One simple Dashboard.
Free CDN is provided for Choice Plus, Online Store, and Pro Hostings.
With Custom WP Themes.
Provides 24/7 Customer support.
Free SSL and Domain privacy.
One Click Installation for WordPress.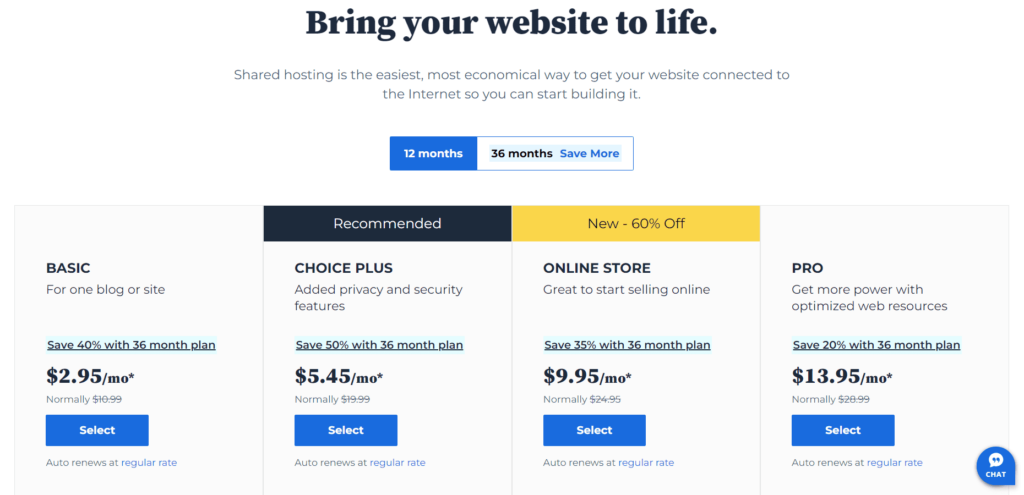 Bluehost hosting starts from the Basic Hosting plans starting from $10.99/mo* with 1 website along with 10GB SSD Storage to Pro Hostings from $28.99/mo* with unlimited websites along with 100GB SSD storage capacity. You can customize the websites with 100+ custom WP themes and make your website look beautiful and informative.
Read about : How To Make Your Website SEO Friendly
5. WPEngine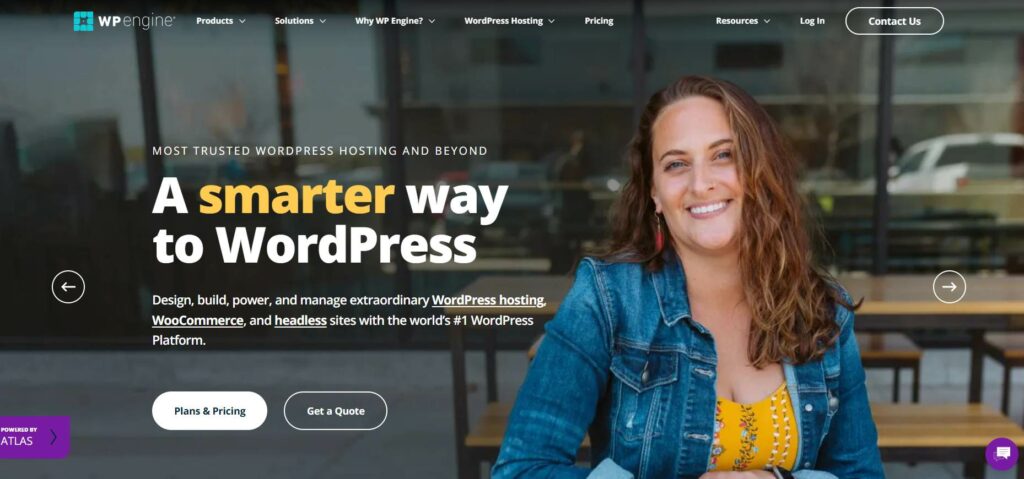 WP Engine manages the WordPress hostings, they provide all website tools including Smart Plugin Manager, Tester, Monitoring, WordPress Themes, and many more. It has daily backups, automated updates on plugins, and free SSL.
WP Engine provides 3 types of hostings:
WordPress Hosting, which helps in boosting the website performance while managing the less.
WooCommerce Hosting helps in building the website faster and selling more products.
Headless Hosting, which helps in building, deploying, and managing headless websites.
Key-Features:
It has advanced customized tools.
Free Website migration and daily updates.
Auto plugin updates to keep the website safe.
24/7 Chat and phone support.
Free SSL and SSH
Good Bandwidth and local storage for websites.
WP Engine hosting starts from WordPress Hosting at $20/mo* which provides excellent performance, security, and support for websites, and till Advanced Solutions at $600/mo* which provides premium performance, graded security, and priority support. WP Engine provides all advanced DDOS mitigation and automated Email that will notify you of all plugin updates and other necessary notifications.
6. A2 Hosting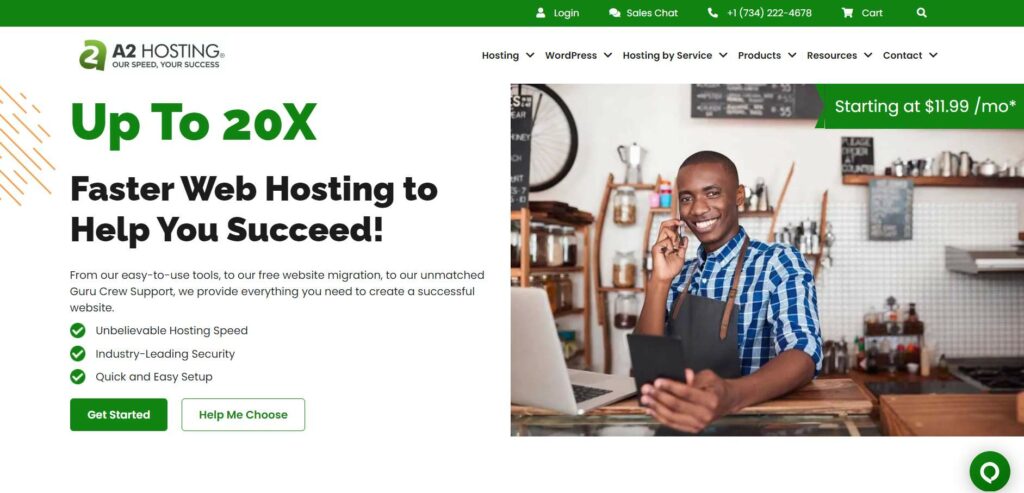 A2 Hosting is the most popular hosting for WordPress, it is known for unbelievable hosting speed, and Turbo Hosting offers speeds up to 20x higher than other hostings. They offer services like Domain name, and protection for websites like privacy, with SSL certificate.
A2 Hosting 4 types of hostings:
Shared Hosting, is best for users who just started using the website.
WordPress Hosting, for getting a professional-looking site that runs quickly.
VPS Hosting, for getting control and scaling to grow your website.
Dedicated Hosting, is best for websites that need higher speed and performance.
Key-Features:
24/7 Customer support and monitoring, DDOS protection.
Daily backups and automatic updates.
Free Website migration.
Ultra-fast speed hosting and support at affordable prices.
It's quick and easy to set up with one click installation for WordPress.
SSL, fast speed with LiteSpeed and Emails.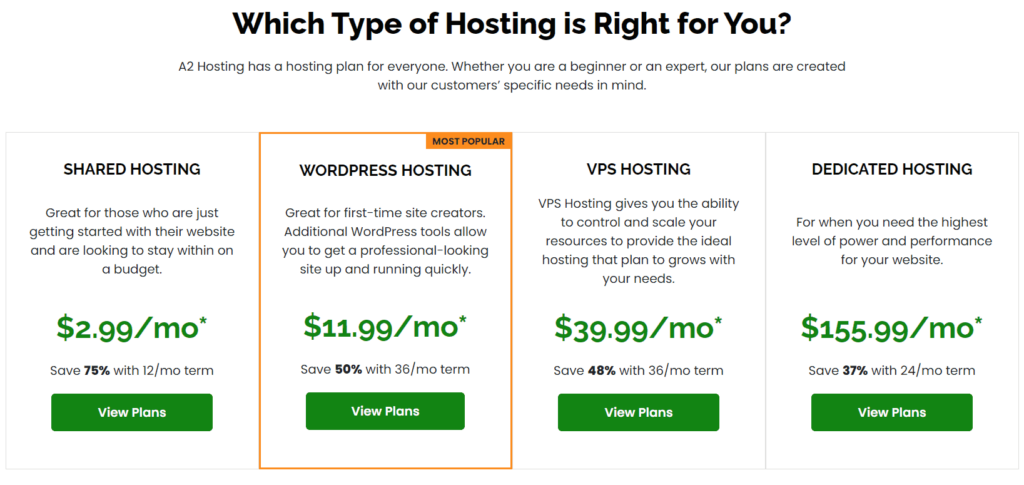 A2 Hosting plans start with Shared Hosting which costs around $2.99/mo* to Dedicated Hosting which costs $155.99/mo*. The performance of hosting will entirely depend upon your choice of Hosting and automatically updates all plugins after notifying through Emails.
6. Kinsta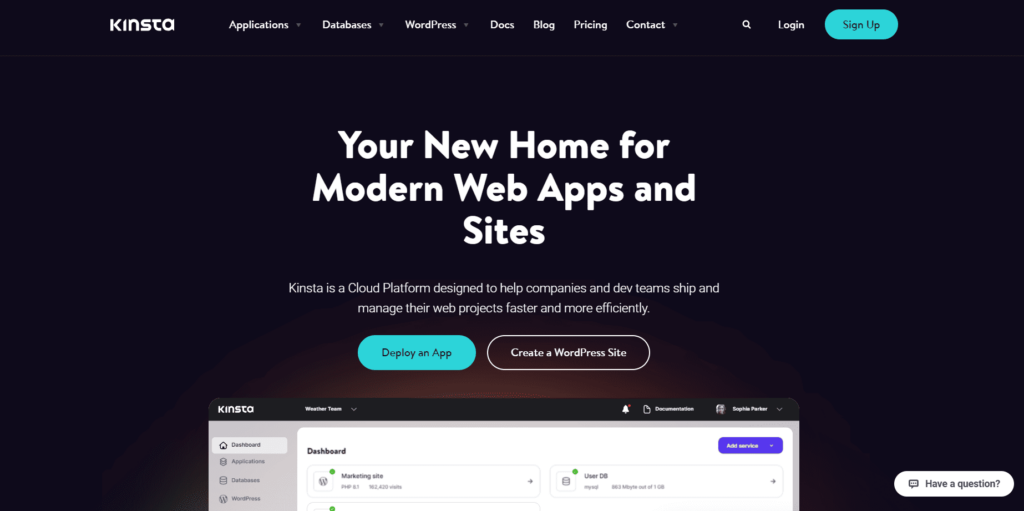 Kinsta is one of the top-notch hosting providers with different features. They have almost 50,000 websites developed every day, provided with all the different resources to help you. The best part is the regular feature updates, which ensure that you always have all the essential information in case any hosting features have been upgraded.
Kinsta has 7 different types of Hostings available:
Application Hosting, For hosting web applications or web projects.
Database Hosting, to set up a database for all web projects.
WordPress Hosting, For hosting all your websites.
Agency Hosting, This is WordPress hosting partnered with the Agency program, which helps focus on your business, and also makes it easier to manage your client's websites.
Single Site Hosting, For the websites which are critical and they are single sites.
WooCommerce Hosting, To spike your websites along with SEO, security, etc to increase your traffic and revenue.
Enterprise Hosting, This is also WordPress hosting, that has remarkable features like security and scalability, etc.
Key-Features:
24/7/365 Customer support, available in different languages.
It manages all types of projects on One platform.
Free Website migration.
Cloudflare Integration to make your website faster and more secure.
Firewall and DDoS Protections for Websites.
They have a few more add-ons features for hosting like premium staging environments, etc;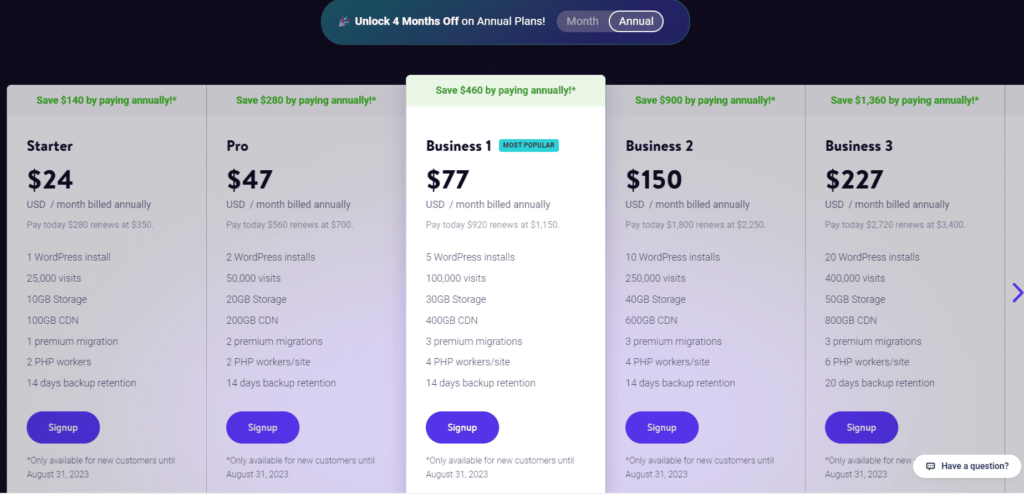 Kinsta has different hosting plans, the Starter pack starts at $24 / annually, has 1 WordPress installed with 10GB storage, and 100GB CDN, and continues to Business 4 with $300 / annually and has 40 WordPress installed with 60GB storage, and 1200GB CDN. They have their own Kinsta academy to teach how to grow businesses and required website skills.
8. GreenGeeks
GreenGeeks is known for eco-friendly web hosting, it has been designed to make websites faster with LiteSpeed technology, and the most secure. It is the best and most stable platform for hosting.
GreenGeeks has 5 types of Hosting:
Web Hosting, For building web pages.
WordPress Hosting, For creating blazing fast page loads and most secure.
VPS Hosting, is the most secure and faster(in speed).
Reseller Hosting, is the perfect website for entrepreneurs, with reliable performance and support.
WooCommerce Hosting, is powerful hosting to sell products through websites.
Key-Features:
Good SSD storage.
Best speed technology, to make your websites load faster.
Good scalability to upgrade your hosting.
24/7 expert support is available.
Advanced security, keeps your websites more secure.
Free SSL certificate, backups, Free website migration, etc.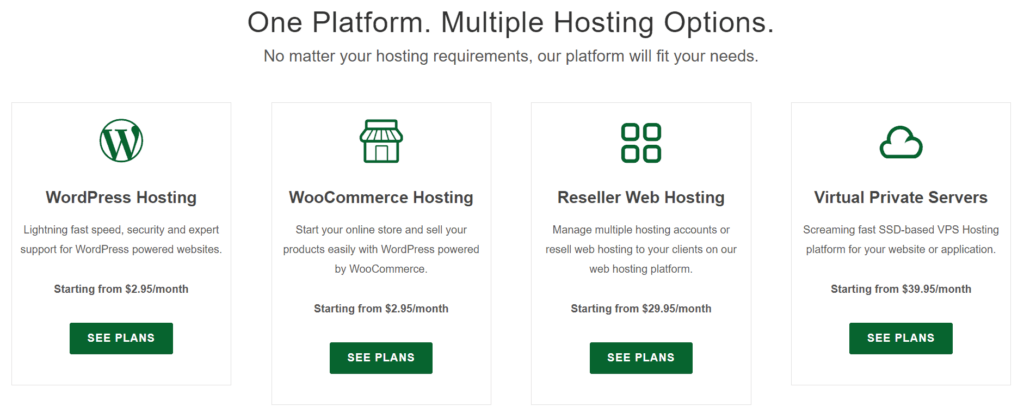 GreenGeeks hosting plans start with WordPress Hosting at $2.95/month till VPS hosting at $39.95/month. It has a Free Domain transfer, a quick launch for WordPress, Automatic Updates, 1 click WordPress Installation.
9. DreamHost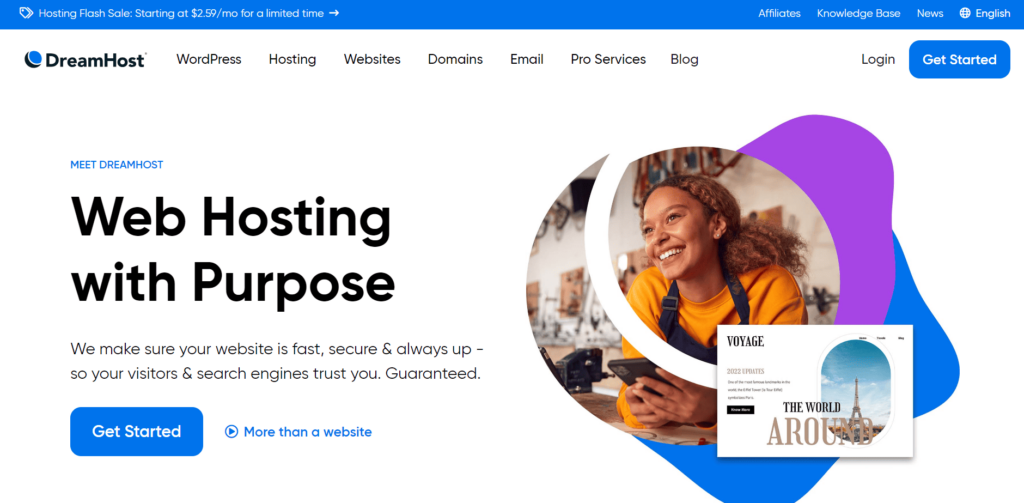 DreamHost is one of the Fully featured hosting providers, their hosting plans are suitable for all kinds of businesses i.e. from smaller to larger scale. They provide professional Email IDs on your Domain name, resources, and guides on WordPress which will clear and guide you through setup.
DreamHost provides 5 types of hostings:
Shared hosting is the best affordable hosting with limited advantages.
WordPress Hosting, for scaling the business and allows users to update automatically.
VPS Hosting is for websites that require to run faster and it is a standalone service
Dedicated Hosting, the website has servers that contain only your files.
Cloud Hosting, helps to host the website data on the cloud, it is a cloud storage service.
Key-Features:
It's simple and easy to use.
Fast and reliable which makes your run faster and you don't have to lose customers.
24/7 customer support.
Beautiful Custom in-built WordPress themes.
Strong Security which includes multi-factor authentication, secure hosting, etc;
Open-source solutions for provided to you whenever it is possible.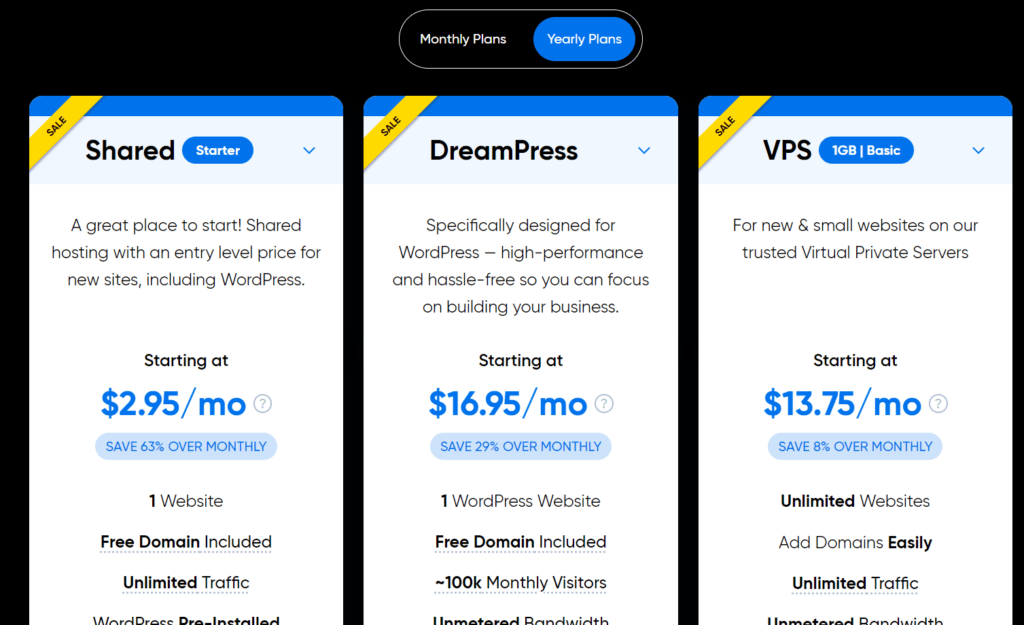 The DreamHost hosting plans start at $2.59/mo* i.e. WordPress Hosting, Website Hosting to Dedicated Hosting which costs around $169.00/mo*. They provide automated updates on plugins and other important information through Emails and you can be in touch with Support for any kind of help.
10. Inmotion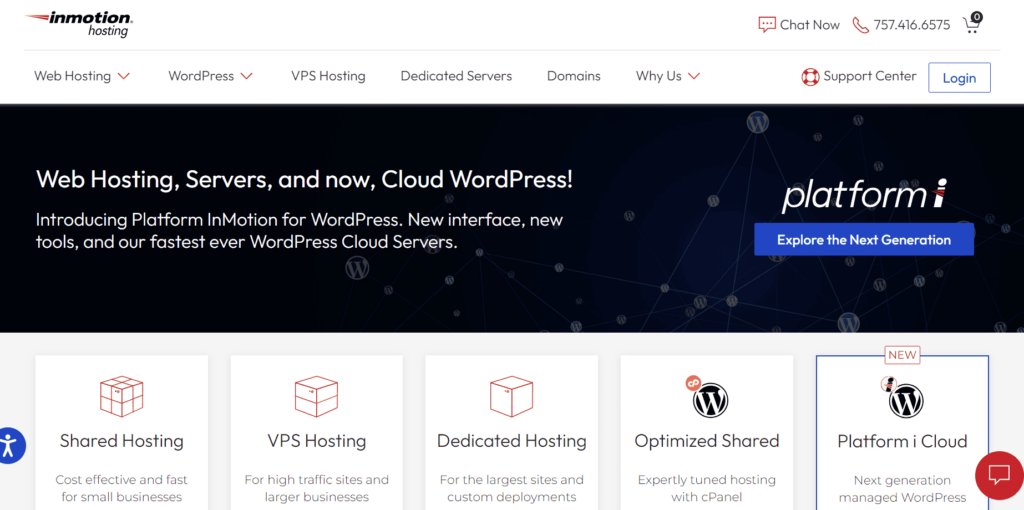 Inmotion has awarded winning services with excellent support, they have a step to step educational videos on creating WordPress. They provide professional Email addresses, and the best Backup solutions, with unlimited bandwidth.
Inmotion has 4 types of Hosting:
Shared Hosting, is best for small businesses at affordable cost.
WordPress Hosting, Best for the performance and speed of websites.
VPS Hosting, is best for large businesses and resellers which have high traffic
Dedicated Hosting, for large businesses which the largest traffic, and for other deployments.
Key-Features:
24/7 customer support.
Free SSL certificates and complete server solutions.
Advanced and dedicated security.
99.99% Uptime and monitored security.
Most fast and reliable websites.
Premium protection from malware and hacking.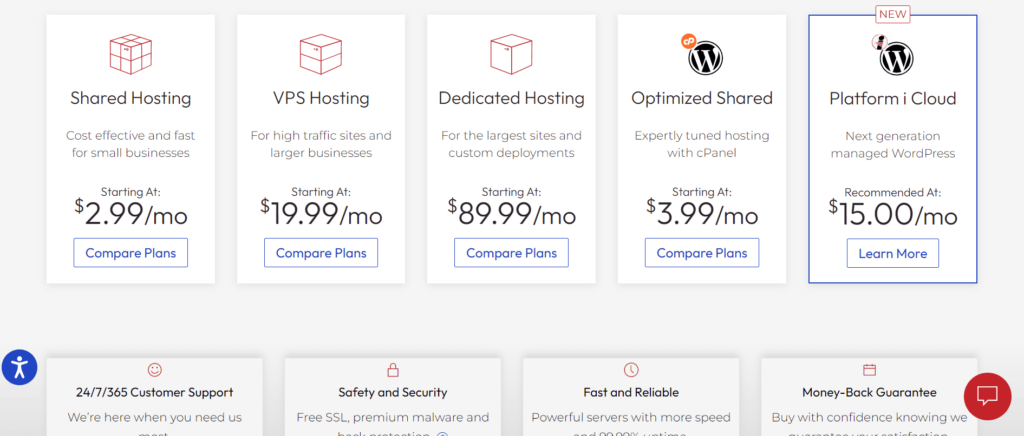 Inmotion hosting starts from Shared hosting for $2.29/mo* and continues till dedicated hosting at $89.99/mo*. They have 24/7 US-based support, and they have the best help in setting up installations, domains, and unlimited professional Email addresses.
Conclusion:
In this article, I have covered all the important factors to consider when selecting the best WordPress hosting for your website. I have highlighted all the significance of optimal website performance and user experience, which can be greatly influenced by the hosting provider and that to be considered while choosing for your WordPress site.
Selecting the Best WordPress hosting site has a significant impact on a variety of criteria, including performance, dependability, speed, and others that affect the success of your website.
It is very important to take your time and carefully compare different hosting options. Consider your specific website requirements, such as traffic volume, storage needs, and budget. By doing so, you can ensure that you make an informed decision that aligns with the needs of your website.
Remember, selecting the best WordPress hosting is not a decision to be taken lightly. You should remember that it plays a vital role in gaining the success of your website. So, be patient, think and make the choice that best fits your needs.
Thank you for taking your valuable time to read this article. If you enjoyed this content, be sure to check out my other articles for more valuable insights on Blogging, and SEO.