In today's digital era, Hosting plays a crucial role to start a blog or website because it a place that safely stores entire web pages, databases, and other content of a particular site.
And, whenever your audience types the domain name in a browser the hosting delivers the website pages, content, images, and other resources available on web pages, it allows them to interact with your online asset (website).
Now, Let me take you through Hostinger review, such as key features, benefits, and other advantages that Hostinger provides for a particular websites.
1. Hostinger Review: A Quick Overview
In recent years, Hostinger web hosting has been a game-changer in the market, it is available for very affordable prices, it is excellent in performance, and it is easy to use. Hostinger is known for its reliability and efficiency and provides a significant impact on your website's experience and other success.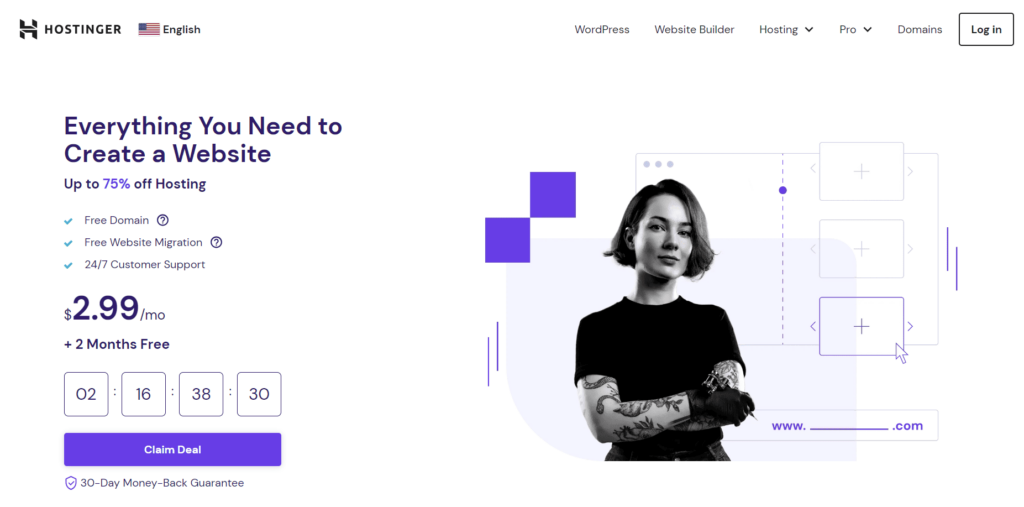 History and Background
Hostinger was founded in the year 2004 as Hosting Media by Arnas Stuopelis.
In 2007, Hosting Media joined the free web hosting service when the company called 000webhost was founded.
In 2008, First-class Cpanel was launched by the web hosting brand Hosting24.com in the USA.
In 2011, Hosting Media was rebranded Hostinger and home-designed hpanel.
In 2016, Hostinger developed a Free Cloud Hosting service.
In 2019, 2x steady growth and became a team of 400+ people Worldwide.
In 2020, it is one of the fast-growing web hosting companies and widely recognized by business authorities.
Global Reach and User Base
Hostinger has successfully reached 40+ countries and an average of 20,000 new users signup daily. With a sizable customer base that is spread out over the globe, Hostinger has established itself as a major worldwide player and established as best web hosting provider. 
After starting small in 2004, Hostinger has developed rapidly to become one of the biggest and most reputable hosting companies in the business.
2. Features and Benefits of Hostinger
Features Overview
Features
Free SSL, hPanel,1-click WordPress Installer,
free domain for 1 year, Email Hosting,
Average Speed
Worldwide 143ms (US Data Center – 136 ms,
Singapore Datacenter -168.9 ms, Netherlands Datacenter – 141.3 ms )
Uptime
99.9% uptime guarantee
Data Centers
USA, UK, France, India, Singapore, Netherlands, Brazil, and Lithuania
Servers
Litespeed Servers
Backups
Free Regular backups for all Plans, Daily backups for higher plans

Security
Free SSL Certificates, Bitninja Security with DDoS protection,
2FA, Cloudflare DNS Firewall, Malware Scanner
Support
Live Chat, Email Support, Knowledgebase, Video Tutorials
Hosting Plans
Shared Hosting, WordPress Hosting, Cloud Hosting,
VPS Hosting, Minecraft Hosting
Pricing
Starting from $1.99/mo (INR 69/mo)
Payment Options
MasterCard, Visa, American Express, PayPal, Cryptocurrency,
Google Pay, PayTM, UPI Payments in India
Refund Policy
30-Day Money-Back Guarantee
Hostinger User-Friendly Control Panel
Hpanel is a customized panel that Hostinger designs, and many users find it easy to use to control their Websites. Hpanel is a more advanced version of Cpanel, Hpanel offers almost all the features you could need to build a website.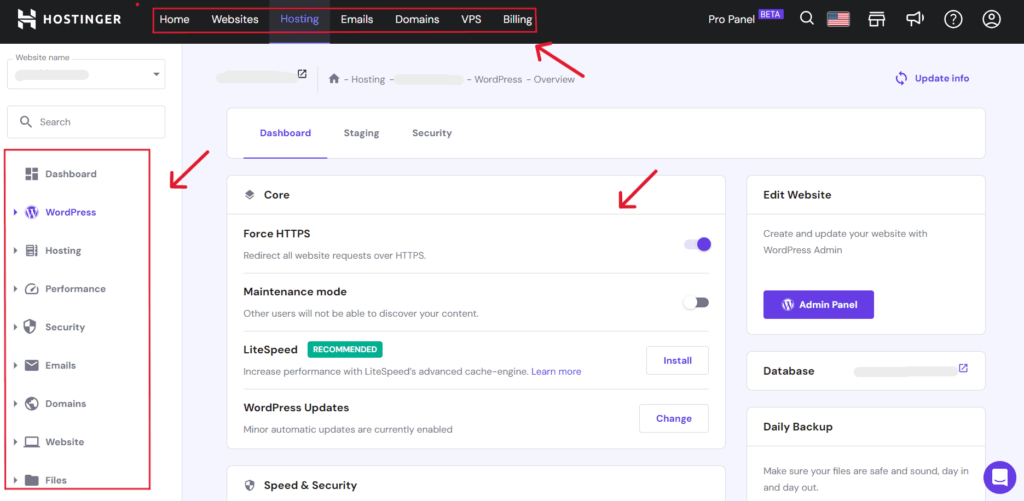 Hostinger provides an Intuitive Interface for the control panel that is designed to be User-Friendly which makes it easy for both beginner and experienced users to navigate and manage their websites.
Hpanel has an Auto installation of WordPress, this process eliminates the need for manual installation and technical knowledge and helps to get your website designed and customized using no code experience.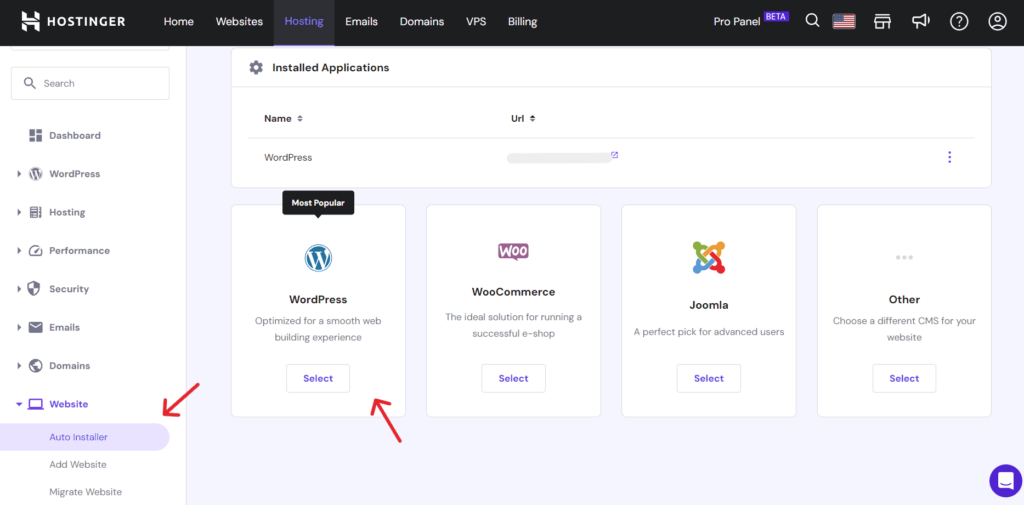 Hostinger provides advanced management tools for those users who seek control over their hosting environment and helps users tailor their hosting environment to meet requirements and optimize the website's performance.
Speed and Performance
The LiteSpeed Web Server Technology speeds up your Website loading and the incredible speed and performance that Hostinger offers guarantees that your users will have a wonderful experience. CDN further enhances website performance, minimizing Website loading times, and optimizing content delivery.
Performance is optimized with advanced cache solutions, reducing the Websites response 3 times with object cache for WordPress and helps to delivery every page as fast as possible.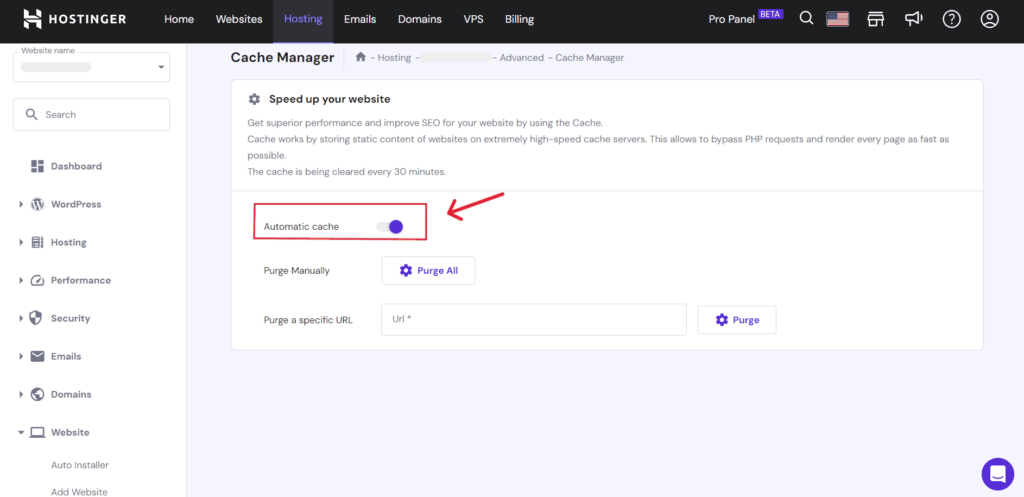 Reliability and Uptime Guarantee
Hostinger understands the importance of providing a reliable hosting environment for its customers. They has redundant data centers, operates from different locations, they have servers in the USA, UK, France, India, Singapore, Netherlands, Brazil, and Lithuania and ensures to provide uninterrupted service and your website remains accessible at all times.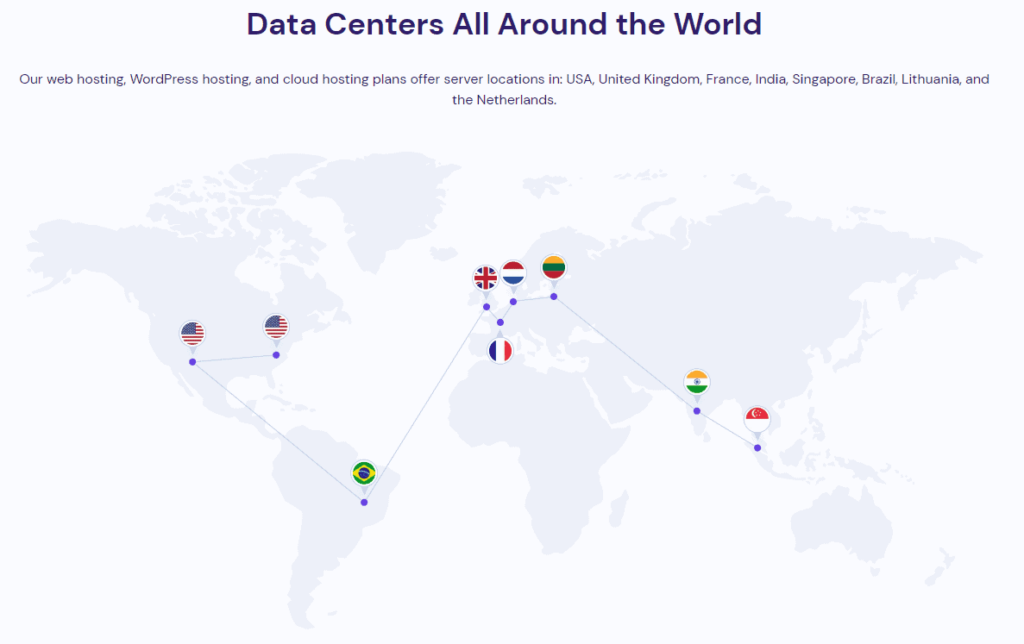 Hostinger will implement a load-balancing technology which is to evenly distribute the incoming traffic across its multiple servers. Failover systems are in place which helps in automatically redirecting traffic to an alternative server in case of Server failures.
With its 99.99% Up-Time guarantee, Hostinger promises that your websites will be accessible for at least 99.99% of the time.
Scalability and Flexibility
Hostinger provides many options to scale for your websites to grow to handle higher traffic, Hosting services make it easier to adjust to changes in website traffic, resource needs, and user requirements.
Without affecting speed or user experience, a scalable hosting platform can readily accommodate increasing workloads, traffic surges, and growth. It enables customers to effortlessly and on-demand increase the resources available to their website, including processing, storage, and bandwidth.
Hostinger shared plan offers adaptable and scalable solutions for both individuals and small websites. As their website traffic and demands grow, users may easily upgrade from entry-level plans to higher-tier ones.
Hostingers VPS provides a highly scalable and flexible hosting environment, where each website is hosted on its own virtual server, it allows the users to customize server settings according to their requirements, installations, and also allocate the resources.
When websites grow and may require more resources, then users can easily upgrade their current VPS plans by adjusting CPU, RAM, and storage according to their increased demands.
Hostinger's cloud hosting services offer unparalleled scalability and flexibility, as website traffic grows, the cloud automatically adjusts the resources to match the demands, leads to excellent performance, and reduces the risk of downtime during traffic spikes. This adaptability enables users to manage sudden traffic peaks and guarantee a flawless user experience.
Security and Backup Solutions
Hostinger offers advanced security measures to ensure the safety of websites and data from any potential threats, these measures include firewalls, detection systems, and malware scanning.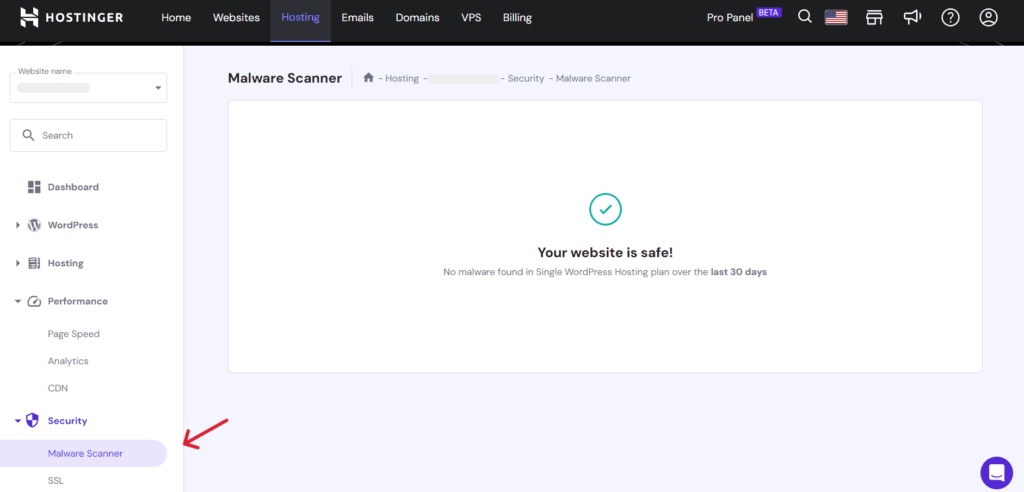 Hostinger continuously monitors for any suspicious activities and any other potential threats, and the security helps to protect websites from any cyber-attacks, and other data breaches.
Hostinger provides automated backups for users, they regularly backup and they ensure that website files, content, databases, and other important/critical data are stored securely on separate servers.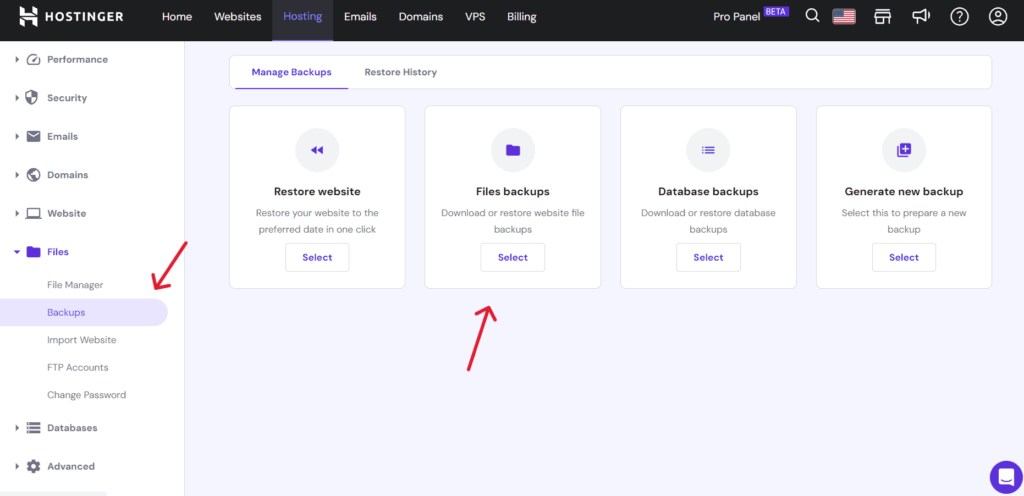 The automatic backups and restoration procedures give you peace of mind since they know how important the website data is and it is protected and data can be quickly restored.
Hostinger provides the website's security through SSL Certificates and DDoS protection. SSL certificate ensures that encrypted data is transmitted between the website server and user browsers.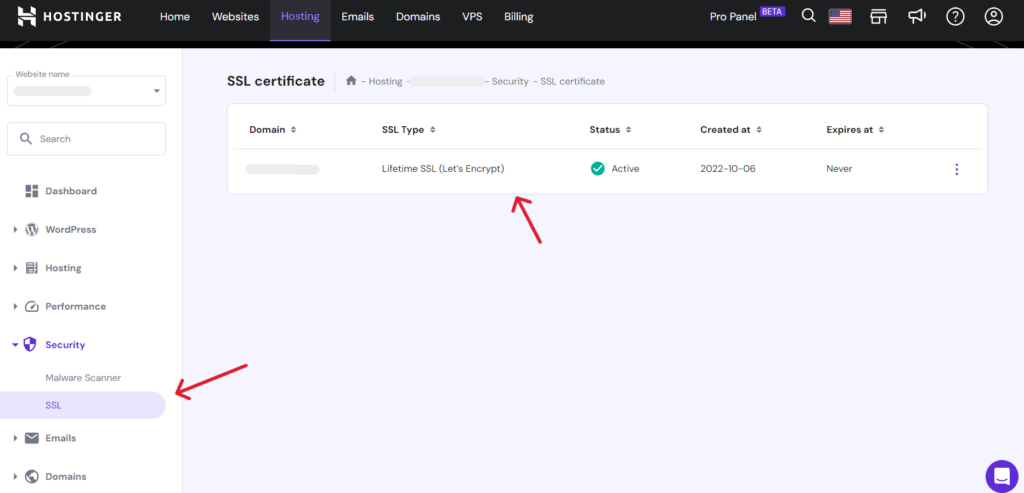 It ensures that it is secured for communication and helps in building trust and credibility with your website visitors. DDoS protection safeguards against sudden flow of high traffic causing disruption or downtime of websites.
3. Customer Support and Satisfaction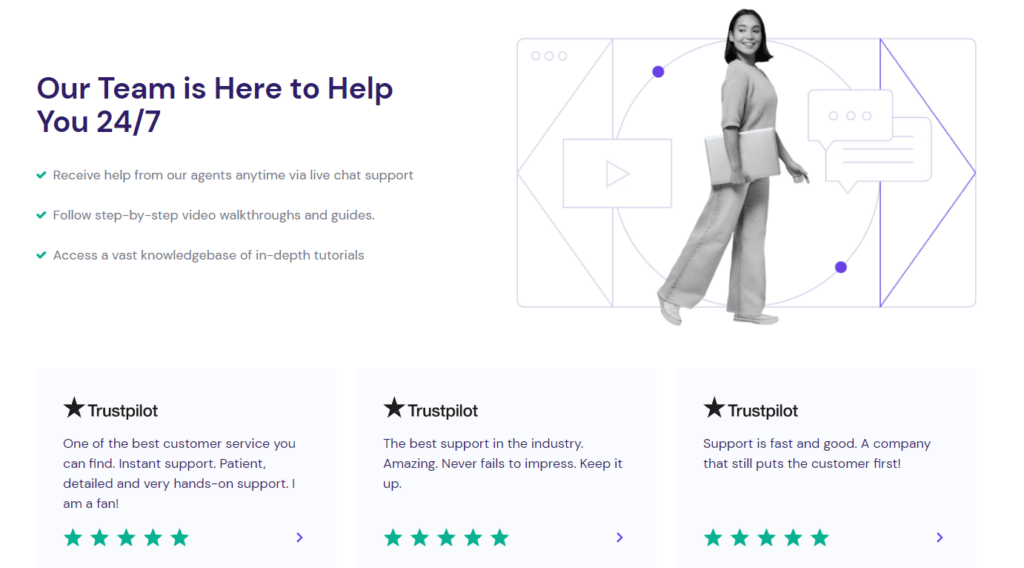 24/7 Technical Assistance
Hostinger provides excellent support to their customers, whether it can be a technical issue, control panel, or any other hosting-related issue, Hostinger's team will help you at any time. By doing this, consumers are guaranteed quick support and solutions, reducing website downtime and interruptions.
Multilingual Support
Hostinger is good at recognizing the global nature of its customer base and they provide Multilingual support for their users from regions and languages preferences. Hostinger support team is very proficient in multiple languages which allows the customers to communicate in their preferred languages, making customer experience more comfortable and efficient.
Knowledge Base and Tutorials
Hostinger has been maintaining a comprehensive knowledge base and tutorials to help customers with self-help options. The knowledge base usually contains articles, guides, and step-by-step tutorials on various hosting topics, guides on setting up websites, how to manage domains, and many more. Customers can handle typical problems independently through this library's wealth of resources.
User Reviews and Testimonials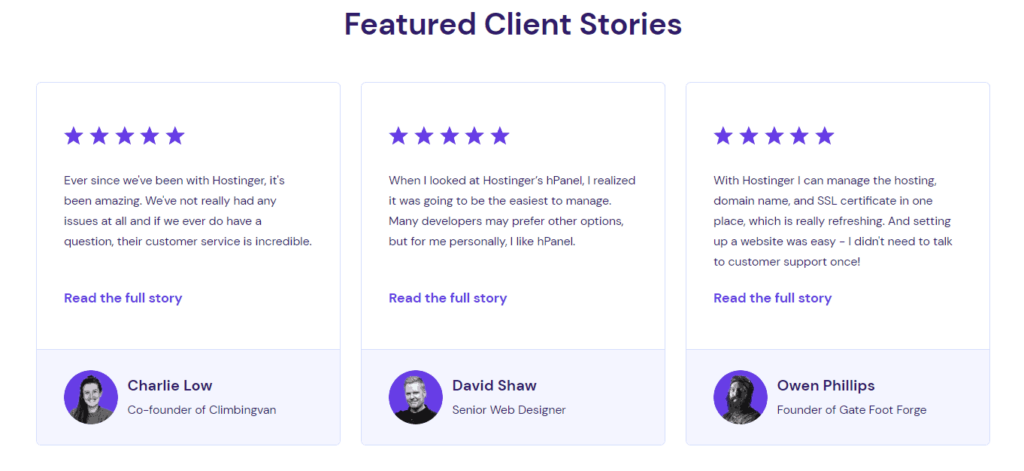 After looking for Hostinger reviews, they value customer feedback and hence are encouraged to share their experiences. Reviews and testimonials always play a crucial role in the decision-making process for users when they are choosing a hosting provider. When the users read these reviews they gain confidence in purchasing and make decisions about Hostinger's service.
4. Pricing and Packages
Shared Hosting Plans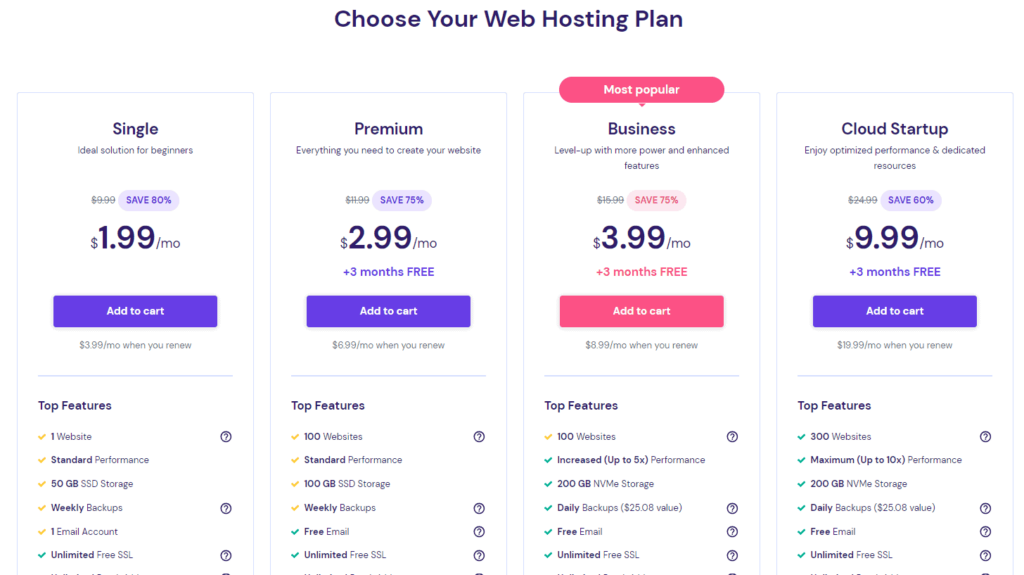 Basic:
The basic Shared Hosting Plans are perfect-fit for individuals and small business websites with moderate traffic.
They offer all essential features, with a single website, limited resources, and good support.
The basic plan is the most cost-effective option for people who want to start their online preference and publish personal blogs, etc;
Premium:
Premium Shared Hosting Plan is an upgraded version of the basic which is suitable for growing websites and businesses with higher traffics.
They provide more resources which include higher storage, bandwidth, free domain with WHOIS Privacy Protection, and multiple websites – a perfect fit for website users who are seeking improved performance and other additional features.
Business:
Business Shared Hosting Plan offers exclusive features for businesses and e-commerce websites which has heavy traffics and resources.
They provide all advanced features like priority support, high-security measures like SSL certificates, enhanced DDoS Protection, WordPress auto-updates, and many more.
After researching, Hostinger business shared hosting reviews concluded that this plan is an excellent choice for those who require optimal performance and reliability for their business.
VPS Hosting Options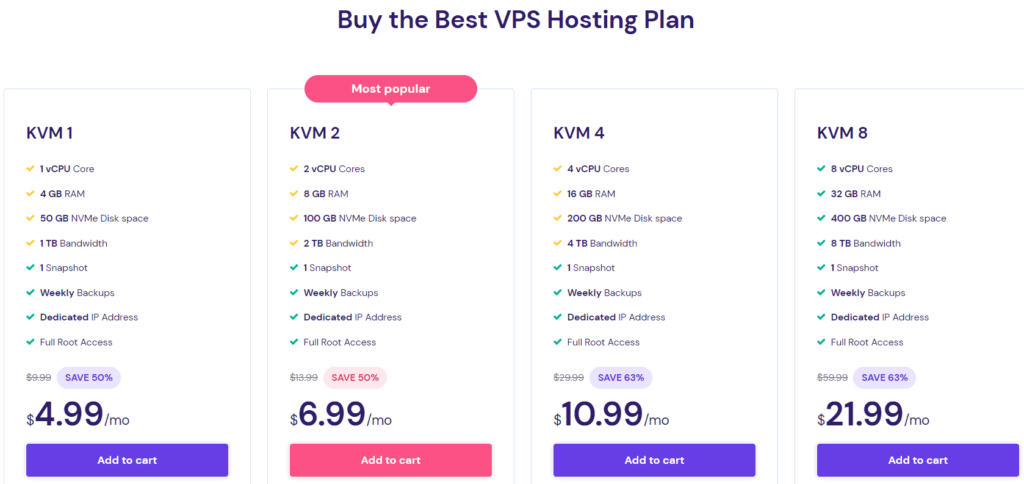 Entry:
The entry-level VPS Hosting Plans are a starter package, more suitable for customers who need dedicated resources and want more control of hostings and websites.
Considering the level of resources offered by Entry VPS Hosting plans it is ideal for small business websites with medium traffic.
If you're considering switching from shared hosting to VPS, the Entry plan is a good starting point.
Optimal:
An optimal VPS Hosting plan provides all necessary resources to the websites with higher traffic.
They offer more CPU, RAM, and Storage than the Entry VPS Plans, they ensure the better performance and scalability of the Websites.
This plan is more suitable for the growing websites with increased demands.
Advanced:
The Advanced VPS Hosting plan is specifically designed as a solution for high resources, intensive websites.
They offer abundant resources, strong performance, and complete root access with advanced customizations and controls.
The Advanced Hostinger VPS Plans are a perfect fit for users who works on complex projects, larger datasets, or manage multiple websites which require dedicated resources.
Cloud Hosting Plans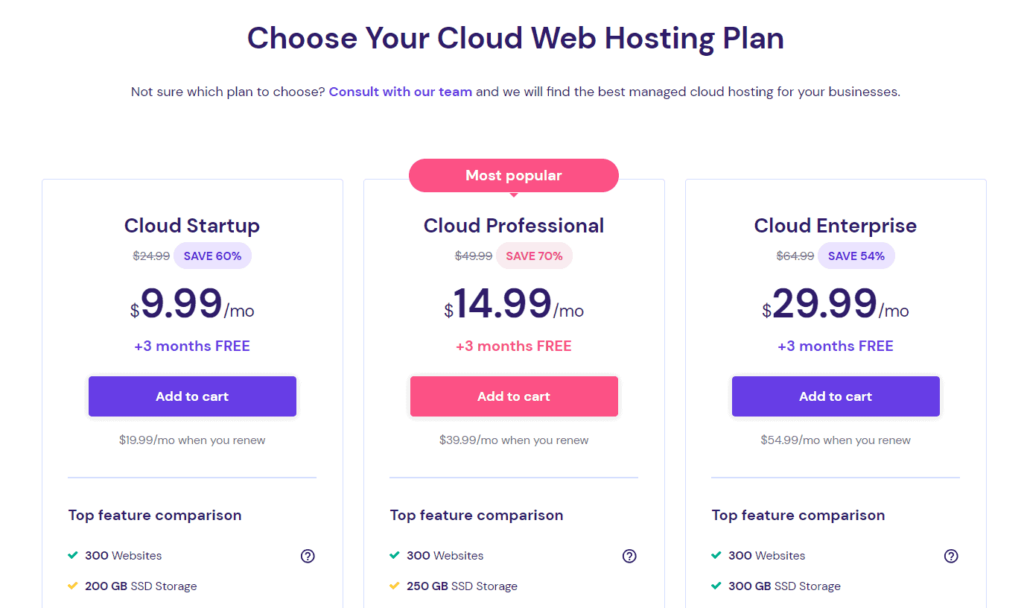 Startup:
The Startup Cloud Hosting plan is the best entry-level option for Startup entrepreneurs and small websites that can be with scalable and reliable solutions.
They provide a set of fixed resources, and it works best with moderate-traffic websites and resource demands.
Hostinger cloud hosting review, states that the plan provides the best benefits of cloud hosting at an affordable price.
Professional:
The professional, Hostinger Cloud hosting plan is a mid-level option, that offers increased resources and performance for expanding websites.
They offer better scalability to handle traffic spikes and improve performance compared to the Startup plan.
The plan is suitable for users who seek enhanced performance and scalability resources.
Enterprise:
The Enterprise Cloud Hosting plan is used for large-scale websites, which have high traffic, and for business that requires significant resources.
They provide adequate resources, with excellent performance and advanced security features.
The plan is ideal for critical projects and organizations needing a reliable cloud infrastructure.
Additional Services and Add-ons:
Hostinger Services often offer additional services and add-ons to enhance the hosting experience further.
They provide services that include domain registration, SSL certifications, daily website backup services, gives Dedicated IP addresses, free Cloudflare, domain privacy, and many more.
Add-ons and additional services differ on the different plans of hosting.
Hostinger Pros and Cons
Hostinger Pros
1. User Friendly Interface
Hostinger hpanel stands out with an interface designed for both beginners and advanced people. Even though you're new to web life you can easily set up and manage your website without becoming overwhelmed on a hostinger dashboard.
2. Affordable Pricing
Hostinger offers Budget friendly pricing models for individual bloggers and small businesses, if you purchase for a long term. For instance, if you purchase single shared hosting for 48 months, it just costs 69/month.
3. Speed
Hostinger uses Light speed servers technology with built in advanced cache machines that helps site load faster and deliver content quickly.
4. Unlimited Free Migrations
They provide unlimited free migrations. The Hostinger team assists you or takes care of the migration process from their side, all you need to do is provide hosting details and credentials and your website will be transferred within 24 hours.
5. Great Backup Options
Hostinger offers free backup and restoration options. They provide free weekly and daily backups depending on the plan. All plans support weekly backups and the business & cloud hosting plans are provided with daily backups.
6. Advanced Security
Hostinger offers advanced security features by providing free unlimited SSL certificates and with daily automatic backups. And, its malware scanners automatically detect the threats or any malware found and remove it from the files.
7. Free Domain Name
Hostinger offers a free domain name for beginners for the first one year with hosting plans as a complimentary registration option, but it is not applicable for a single web hosting plan.
Hostinger Cons
1. Slow Support
Hostinger provides 24/7 live chat support, however the support is knowledgeable and helpful, but the speed of support can be increased. And, there is no phone support.
2. Bloatware
Bloatware is nothing but pre-installed plugins. Hostinger frequently collaborates with their partner services and they promote them with pre-installed plugins. However, you can deactivate or uninstall with just one click.
Conclusion
Hostinger has become a leading global player in web hosting. Hostinger's mission is to make life easier for customers by continually updating its server technology and providing top-notch customer support.
In terms of features, Hostinger offers exceptional speed and performance, outstanding reliability and uptime, a user-friendly control panel, scalability and flexibility, advanced security measures and backup solutions, and excellent customer support.
Hostinger also offers a range of hosting plans, each suitable for different user needs at reasonable prices. As compared to its competitors, Hostinger stands out for its affordability, performance, user-friendly controls, customer support, scalability, and security.
If you are looking for a reliable web hosting provider, Hostinger may be the right choice for you.
Thank you for taking your time, I hope this hostinger review article gave you the valuable insights to invest in it. Make sure to check out my other articles as well for more insightful information.