SEO and Digital marketing work in two aspects, to make a business grow by showing it to people and acquiring customers digitally for your business, across the world on the internet.
But, to specify, SEO is a part of digital marketing strategy that only focuses on generating organic and quality business leads.
Do you need clarification? Ok, let me briefly explain.
Here, in this article, you will learn the differences between SEO and digital marketing, the benefits, and also the planning of campaigns for the business.
So without wasting a minute, let's get started.
What is SEO ?
SEO, also known as "Search Engine Optimization," is the practice of optimizing your website or web page to rank on organic search results of search engines like Google, Bing, Yahoo, etc.
This process helps to get targeted organic traffic to the website and convert that traffic into leads or customers.
SEO is about improving your site's ranking or any other particular website in the organic(non-paid) section of the search results.
I hope you got it.
Now,
What is Digital Marketing ?
Digital Marketing is the process of marketing your business on the entire internet to get leads and customers to your business.
Here, Digital marketing is like an entire ocean that connects each part of marketing channels to bring the targeted audience to the business and convert them into your customers.
So, digital marketing combines all the marketing strategies and targets the right audience on the internet through different digital channels.
Now, As you got the basic idea of both
Let's dive into the differences
SEO and Digital Marketing, The Key Differences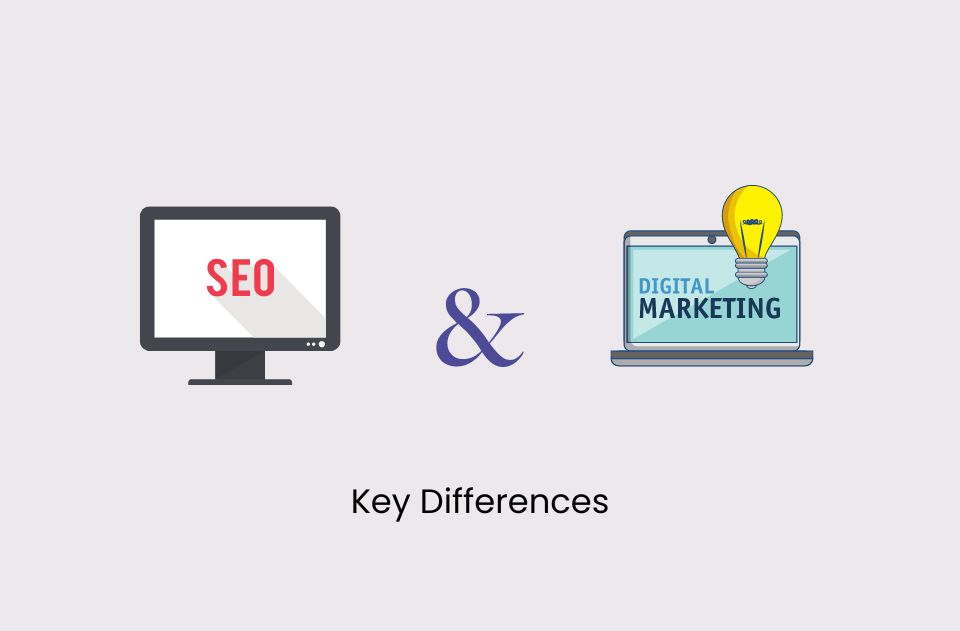 As Russell Brunson mentioned in one of his books, "Traffic Secrets," there are two types of people we target to sell our products or services.
They are searchers and scrollers; searchers are people who search on search engines like google. At the same time, scrollers are people who scroll on the internet.
So to give clarity, SEO is done for searchers searching for your product or services. And digital marketing is majorly done for scrollers, where you interrupt them to get their attention with your ads or emails for your product or service.
Now let's dive into SEO and digital marketing differences.
1. SEO is where you only focus on a website to optimize it and rank higher on Google SERP.
Here we focus on Google because Google shares 83.84% of the search engine's market share across the world, with approximately 8 billion searches every day, as per Statista.
2. Whereas in digital marketing you focus on different digital channels to bring awareness of your business and customers to sell your product and services.
3. As I said, SEO is part of Digital marketing; it is the only process to improve your website rankings higher on organic search results of search engines, so it helps to bring your targeted audience to the website.
4. And digital marketing is a combination of all digital marketing strategies together to improve awareness and traffic to your business.
5. While SEO focuses on gaining free organic traffic from search engines, digital marketing depends on paid advertising and other marketing strategies to gain leads and convert them into customers.
6. SEO and digital marketing act as complementary, they are not the same thing, but having a website is mandatory for your business to implement both strategies together or individually.
7. While both are important for your business, It's up to you whether you target your customers via only SEO or else focus on entire digital marketing techniques, which will depend on your business requirements and budget.
Some of the common tasks included in SEO
Performing Competition analysis
Creating high-quality content
Optimizing content around specific keywords
Building backlinks
Some of the common tasks included in Digital Marketing
Competitors research
Content Marketing
Paid Advertising
SEO
Email Marketing
Social Media Marketing
While both of them have their own advantages and disadvantages, You can easily target your audience globally or Locally with both approaches.
Now Let's see
Types of SEO in Digital Marketing
As a business owner or digital marketer, you need to understand the core concepts of SEO to make your website rank and get organic traffic to the site.
So, here are the 3 main types of SEO in digital marketing. They are
On-Page SEO
On Page SEO is a process of optimizing the On-Page elements of every web page of your website to make it understand by search engines and users to rank in SERP.
Here, On-Page SEO has to deal with both the content of the page and the HTML code of a web page.
Technical SEO
Technical SEO is the process of optimizing your website for search engines(Google) as per technical requirements to help search engines find your content on the web.
Here you need to optimize your website to search engines for crawling and Indexing without any problem.
Off-Page SEO
Off-Page SEO is the process of promoting your website on the web, to improve ranking in Search engine results page.
It is the action taken outside of your website to impact rankings within SERP (search engine results page).
Here off-page SEO gives the search engines a trust on your site, of how the world(other websites) thinks about your website.
These are the 3 types of SEO. The combination of the above types raises other two types of SEO, which are E-commerce SEO and Local SEO.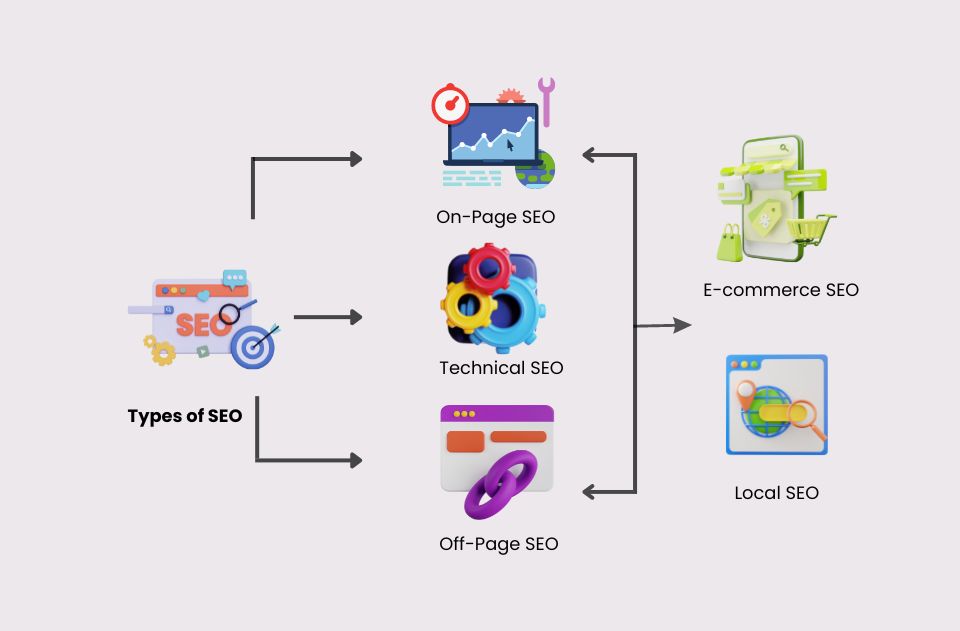 Read about different types of SEO in digital marketing , where I have written briefly about all SEO types that will help you to get more clarity.
Benefits of SEO for your Business
As we know, SEO helps every business out there to get organic traffic to the site, but they are other benefits of SEO for your business, listed below.
Every individual out there uses a search engine(Google) to find any information or solution to their problem. So let's see how SEO benefits businesses.
SEO helps to increase your brand awareness by targeting the right audience.
SEO helps to bring quality leads/customers to the business and also has a high conversion rate.
SEO promotes your business(website) 24/7 on Google.
SEO helps users quickly to build trust in you and bring lifetime valued targeted customers.
It easily helps to outrank your tough competitors and reach out to the target audience because everything here is transparency.
SEO is cost-effective and brings high ROI( Return on Investment). And the leads generated by SEO strategy are high and quality compared to other marketing strategies.
For example, most individuals use google to find local businesses, so if your business or website is not on google and if it is there and not optimized, you're losing your customers.
It means your competitors gain more customers and profits from SEO because they will actively implement SEO strategies by focusing on the target audience, which is also low cost than other marketing strategies.
Also Read: Types of Keywords in SEO here!
Planning an SEO Campaign
To perform well on search engines, you need to make a strategy to improve your website presence. Planning an SEO campaign takes time because it includes competitor research, website audit, keyword research, and content creation, etc.
Here are some steps below to be considered.
After creating your website, You need to do competitor analysis to find content ideas and their behavior on Google to get clarity.
Doing keyword research is essential to know what your target customers are looking for and what they are typing on google.
Creating High-quality content for targeted keywords and publishing it with well SEO optimized to rank on google.
Auditing the site for finding any technical errors and fixing them in priority
Focusing on Link building from the authority sites to improve ranking on SERP.
Tracking results of pages, such as rankings, CTR, Bounce rate, Dwell time, etc.
Now let's dive into
Types of Digital Marketing Strategies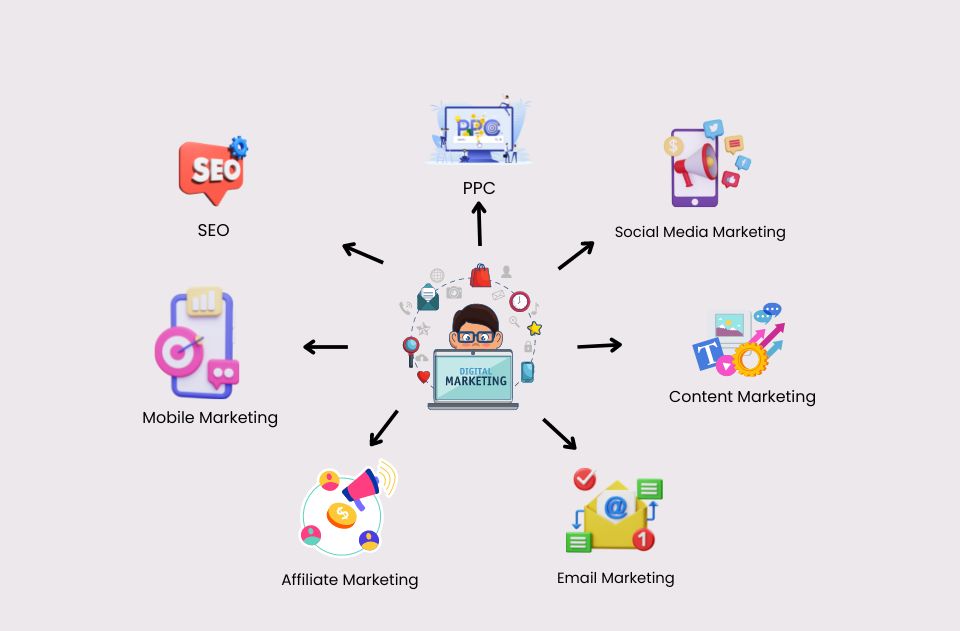 Digital Marketing is a vast area with different components of marketing strategies in it. Here, below are the types of digital marketing strategies.
SEO
As I said, SEO is part of digital marketing, a process to increase the website's ranking on search engines.
PPC
PPC stands for Pay Per Click advertising. It means that digital marketers pay for search engines like google and Facebook to get leads and visitors and convert them into customers.
Social Media Marketing
social media marketing is a process of targeting the right audience on social media platforms such as Instagram, Facebook, and Linkedin by creating business-related content, solving audience queries, interacting with them to gain trust, and converting them later into customers.
Content marketing
Content marketing is the process of choosing a suitable format such as video, audio, written, graphics, etc, and publishing those formats of content on appropriate platforms to gain customers by providing value with the content.
Email Marketing
Email marketing is staying connected with the leads and existing customers by providing value to them through emails and converting them high ticked customers.
Affiliate Marketing
Affiliate Marketing is the process of promoting your business product or service by paying commissions to promoters who are between your product and target customers. It works on a commission based, if a promoter sells your product/service, he will receive a certain amount of commission.
Mobile Marketing
Mobile Marketing is a process of promoting your business via mobile applications such as SMS, Whats app, or other mobile apps.
Benefits of Digital Marketing to your business
Here is a list of benefits of digital marketing for your business
You can easily target your audiences by different components of marketing strategies or by combining them as a funnel.
And also, here there will be better and faster lead generation for the business.
Here, you can easily get faster results and high conversion rates for your product/service.
Compared to traditional marketing it is more cost-effective and easy to build brand awareness among the target audience.
It also helps to bring quick and higher ROI(Return On Invest) for the business.
There will be better and faster lead generation for the business.
So, every business needs to focus on digital marketing to gain attention and bring customers that make profits to the business.
Basically, SEO and digital marketing need implementation. Implementing of right strategies according to your business needs will help to build revenue for the business.
Planning a Digital Marketing Campaign
The business needs to understand and plan the core strategies of digital marketing to implement and get good results. Below are some steps to be followed.
Determining your buyer persona, a.k.a your dream customer.
Developing a content calendar for implementing the strategies.
Creating and understanding short & long terms goals of the business.
Choosing the right digital marketing strategies listed above according to the business needs.
Planning and dividing the budget for paid advertisement and other marketing strategies.
Offer values to generate leads and later convert them into customers.
Tracking performance and results of the campaigns.
SEO vs digital marketing which is better?
Search engine optimization, a.k.a SEO, is cost-effective for small businesses and also for large companies, which helps to drive quality traffic to the website when optimized for search engines and users.
And also, most consumers search for local businesses on google to find the businesses nearby and to visit the store for a particular product or service.
According to Hubspot, SEO is the top source for B2B lead generation at 14% followed by 13% Email marketing and social media at 12%.
As you can see from the insights above, both SEO and digital marketing will give you the results for your business. SEO takes time, but provides quality results, whereas digital marketing gives instant results by focusing on different marketing strategies.
So, it depends on your business budget and how you want to target your audience to drive customers for the business.
And, if you're starting your career in Digital Marketing, you must choose according to your passion. It will be better if you focus on a particular specific niche rather than entire Digital marketing strategies at the beginning.
Also Read: Which element is most important for On Page SEO here!
Conclusion
To wrap it up, SEO and digital marketing are very essential right now for every business out there.
If you focus on SEO, it takes time to see results but will be benefited in long run. And, if you want instant results you can focus on digital marketing strategies such as paid ads, email marketing, etc to generate leads and convert them into customers.
I hope you got some valuable information about both SEO and digital marketing, if you have any queries feel free to ask in the comments, I would like to read them and reply.
Thank you!
Frequently Asked Questions on SEO and Digital Marketing
Can I learn SEO without digital marketing?
In simple yes, you can learn SEO without learning entire digital marketing concepts. But it will be useful if you have some idea about digital marketing strategies in long run.
Is SEO related to Digital Marketing?
Yes, SEO is a part of digital marketing strategy, which helps to increase the ranking and visibility of the website on the organic search results of search engines like Google, Bing, Yahoo, etc.
What are the 3 main areas of SEO?
The 3 main areas of SEO are On-Page SEO, which is the activities that happen on your website, Off-Page SEO the activities which happen outside of your website to promote your website, and Technical SEO, which is the activities that happen with the website to improve the visibility to search engines.
Can I learn SEO without Coding?
In simple, yes! You can learn SEO without having knowledge of coding. You don't need to become a programmer and learn huge programming languages to learn SEO. But it will be a huge benefit if you have some basic knowledge of HTML & CSS and it will help you in the aspect of Technical SEO.